Sobeys wants to create holiday magic with Santa's help
How the revival of a much-loved east coast ad led the grocer to shift toward storytelling for its new "Secret Santa" campaign.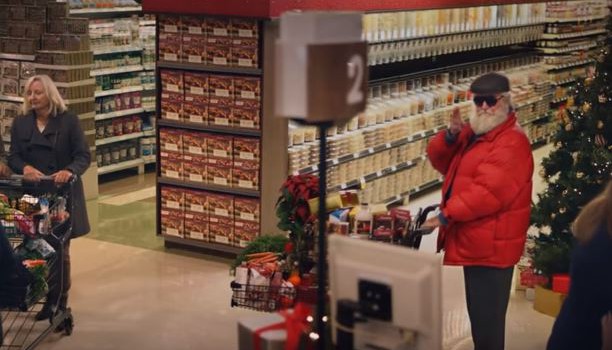 Sobeys is hoping to connect with customers on a more emotional level this holiday season, so it has taken a storytelling approach in its latest campaign, shifting the focus away from the products in its stores.

The brand's "Create a Little Holiday Magic" campaign debuted last Wednesday with the airing of a minute-long spot called "Secret Santa." It's the first national holiday spot Sobeys has done in recent years and was co-launched with the company's Safeway banner.

Created by Toronto's Gravity Partners, the spot shows Santa Claus clad in a puffy red coat and sunglasses doing some holiday grocery shopping. The commercial hints at Santa's magical abilities, as he pulls boxes from the bottom of a pile (without knocking it over) and spontaneously turns on a checkout-aisle light while watching a cashier fill his seemingly bottomless grocery bag. Despite Saint Nick's disguise, the children in the ad come to recognize the man for who he really is. The spot is intended to play off the magic of the holidays and remind families of what makes it such a special time of year.

More often than not, Sobeys' previous holiday campaigns have emphasized product, says Lyne Castonguay, EVP of merchandising. In Atlantic Canada, the brand's "Star of Christmas" campaign, dating back to the '80s, was very popular but had run its course, she says. The campaign spot featured musician Bob Quinn's "Star of Christmas" song performed by the Halifax children's choir as staff and families prepared for the holiday season.

Sobeys revived "Star of Christmas" for the east coast market last year, recording the song again to give it a more modern feel. Consumers could download the song, which included karaoke and ring tone versions, and then share it with others. The popularity of the campaign made Sobeys realize it was time to shift its marketing efforts towards a broader storytelling approach, Castonguay says, one that would make customers feel the same way in stores as they do watching its commercials.

This year's ad is running on national TV networks and select specialty channels until the end of the year. It will appear during family Christmas specials and other shows, including Survivor, Hockey Night in Canada, Modern Family and Dancing with the Stars.

According to Talke Krauskopf, Sobeys' director of integrated brand marketing, the grocer's digital strategy includes shorter social spots, six-second bumper ads and four customizable holiday playlists through a partnership with Spotify (starting in December). In addition, it will be doing targeted promotions through Waze and Rogers GeoTxt, which delivers ads based on users' geo-location. Sobeys will also host a digital and in-store contest and make food bank donations through a program called "Give the Gift of Food."

Sobeys is working with UM on media and High Road on PR. It brought on Gravity Partners as its digital and social agency about three years ago, but has since expanded its mandate to include overall strategy and creative execution.