Interac's holiday push for alternative payment methods
The company's seasonal messaging centers around helping customers overcome everyday payment challenges.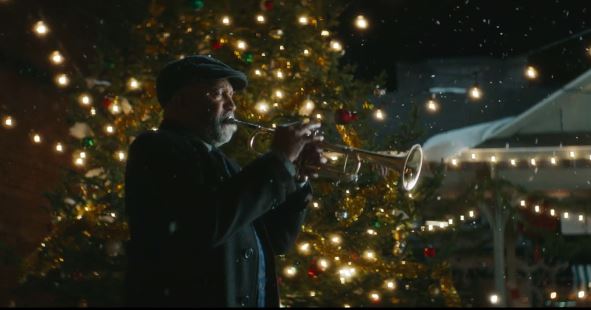 Since the launch of its new "Own Your World" platform in October, Interac has been aiming to show consumers how easy and convenient it is to use a range of technology-based payment methods.
That message is also at the core of its latest holiday campaign, where the main spot presents viewers with the increasingly likely scenario that they should find themselves without cash in their pockets and wallets this holiday season.
In the spot by Zulu Alpha Kilo, a musician is seen playing tunes on the street corner, inside a cafe and in front of local shops. While passersby appear to enjoy his playing, they are all caught "changeless" and without the means to show their appreciation. The commercial ends with the musician checking his phone and discovering he has received a series of e-transfers from his fans, suggesting that cash is no longer needed in these everyday situations.
The campaign launched on Nov. 22 and will run until Dec. 31.
As with its "Own Your World" and "Mysterious Man" campaigns, the brand is trying to show the comfort and flexibility Interac offers consumers when it comes to emerging payment methods.
The brand has worked to understand its market segmentation and the needs of its diverse range of customers, says Andrea Danovitch, AVP of marketing and brand at Interac Association/Acxsys Corporation. Whether they prefer paying by Interac Flash on their mobile phone, or haven't yet made the jump to using a debit card, Interac wants to help make their lives easier, she says.
This year's campaign also aims to make a greater emotional connection with consumers. Interac's last few holiday campaigns focused on the "anti-credit" message that stemmed from its "Be in the Black" platform, and in doing so injected a little more humour and fun into its commercials.
The campaign includes television, targeted and mass digital and social ads, OOH billboards, in-cinema takeovers, digital animated screens and banners. Media Experts is handling the media buy.
For the first time, the OOH creative in Interac's campaign doesn't include any copy. Danovitch says Zulu Alpha Kilo has been particularly good at coming up with strong taglines for the brand in the past, but Interac wanted to avoid having its OOH messaging become stale, so it decided to try a different approach.
"Without the headline, the images were so crisp and so clear showing these devices and the gifts that can potentially be bought with them," she says, "that it really didn't need the words."
A 60-second version of the campaign spot will air in Cineplex theatres starting Dec. 1.