Public Office opens for business
Jackman veterans have launched a new creative and production agency focused on categories from cooking to cannabis.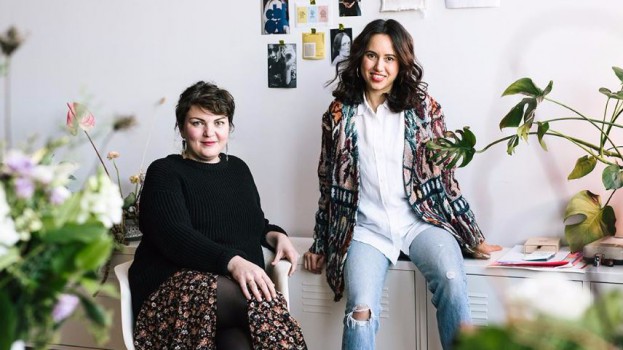 A new creative and production agency has opened in Toronto.
Launched in September, Public Office was co-founded by designer Caila Stangl (pictured, right), producer Lindsay Durney (left) and Kirsten Gauthier, who owned the original Public Office, a print facility and poster studio that operated out of Toronto. The new Public Office is focused on strategy, creative development and execution.
Stangl and Durney, who form the agency's core team, say their goal was to create a flexible and tight-knit studio, capable of keeping overhead costs low. They will contract additional employees as needed, allowing them to "curate" teams around the specific needs of their clients. They recently brought on their first full-time employee, Larissa Scholtis, who will serve in a design support role.
"This approach really caters to the way that creatives want to work. Instead of being jack-of-all-trades and limited, [teams hired by Public Office are] actually able to work and continue to work on projects that keep them engaged and that they're interested in, which keeps everything sort of fresh and exciting," Durney says.
Stangl adds that the setup will allow Public Office to "reach out to people that we know will be very versed in what we want them to do or have had some experience in that and can expand on that experience."
Gauthier, who is also the CMO at 48 North Cannabis, will help guide the development of Public Office as a member of its board. That board also includes Bill Durnan, a former creative lead at Cossette and Jackman Reinvents. The board will help establish a growth plan, target new clients, define the agency's mission statement and offer advice from a business perspective.
Stangl, Durney and Gauthier all previously worked together at Jackman during Durnan's tenure, and have been collaborating on-and-off on a freelance capacity over the last year.
Public Office will focus on beauty, fashion, gourmet and interior design clients, as well as the emerging cannabis category. In the future, the founders say they would like to expand their operations more into television and lifestyle.