Frank and Oak celebrates our differences
The clothing brand launches a new unisex collection and CSR campaign to support immigrant women and equality.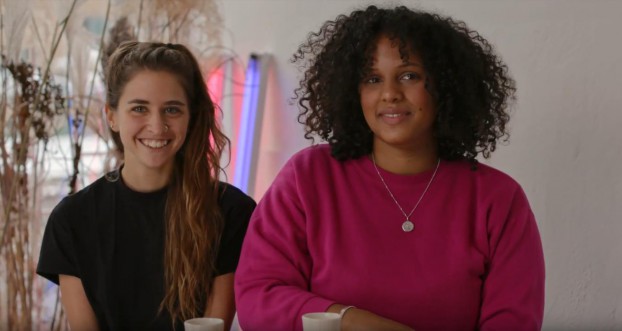 Frank and Oak will launch its "And" collection Tuesday as a series of unisex tshirts and sweaters that support diversity, equality and the brand's belief that differences should not be overcome, but celebrated.
The clothes were fabricated by Petites-Mains, an organization in Montreal that supports immigrant women in need through professional, hands-on job training. Frank and Oak has also partnered with Equitas, an organization that works to extend equality and social justice in Canada and globally. Five dollars from every sale of an "And" item will be given to the organization.
In a video promoting the initiative, people are shown in simple, straight ahead shots standing paired with the different people that make up the personal connections in their lives. The spot features no music, with the only sound being a poem written and read by Cadence Weapon, a hip-hop artist and former poet laureate of Edmonton.
"Our usual messages are generally about product function and style, but this is about people and the values we personally care about," says Ethan Song, co-founder and CEO of Frank & Oak, about the creative style of the video. "Our main objective was to create something that expressed how we saw the world with the hope that people will connect to it too, in some way. The t-shirts and sweaters were there as a way to turn that connection into action.​"
This is the first time Frank and Oak has directly partnered with a charity for a CSR initiative, but Song says it is something the company has put a great deal of time into and is a good fit for the brand.
Song and Hicham Ratnani, the company's other founder and COO, are first- and second-generation immigrants, respectively, and as a result the values of equality, openness and inclusion are something that have become ingrained in Frank and Oak's culture. It's 200-person team represents over 20 different nationalities and almost a dozen different first languages, so the program appeals to the company's internal team, but the hope is that it was resonate just as strongly with its customers.
"We're leveraging our brand and our community to spread this message, heighten awareness and start a dialogue," Song says. "We will continue to align ourselves with like-minded organizations and advocates of these values through our future collections. We've always been advocates for diversity and inclusion and through 'And' we're able to promote this message through our preferred medium – clothing – and ask our global community to do the same, each participant putting their own unique stamp on it."

The collection is meant to be unisex, showing that Frank and Oak's CSR efforts also reflect its recent business goals to expand its customer base to include more women. The brand launched its first women's collection at the beginning of the year and launched bricks-and-mortar locations dedicated to women's fashion in Montreal and Toronto this fall. The brand's foray into women's wear was actually influenced by the fact that Frank and Oak already had some dedicated female customers that were shopping styles traditionally classified as "men's wear."

"We believe our community is open and fluid in their retail choices, which depend more on their needs and desires and less on the label," Song says. "We let them create their own style through our global offers. In the end, they are the ones deciding whether a specific piece of clothing is unisex or not."