Gaz Metro rebrand a response to stakeholders
Those inside the Quebec energy business wanted a brand that better reflects its investment in renewables.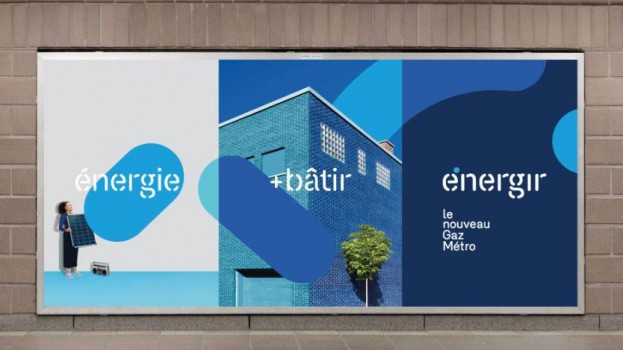 Quebec energy company Gaz Métro began as a natural gas distributor but has moved increasingly into the renewable energy space over the last fifteen years. Faced with questions from stakeholders wondering when the company would rebrand to better reflect the nature of its business, Gaz Métro executives finally decided it was time for a change.

Gaz Métro will henceforth be known as Énergir, a name that melds "energy" with words like "pioneer" and "engineer," explains Valérie Sapin, the company's director of marketing and innovation. The name is intended to evoke the producer's vision to be part of the movement towards renewable energy.

Énergir is the leading natural gas distribution company in Quebec and produces wind powered electricity through its Quebec subsidiaries.

Over the years, Gaz Métro has moved outside of the province and began heavily investing in the U.S. market. On top of being the only natural gas distributor in Vermont, the company produces hydraulic, wind and solar energy and distributes liquefied natural gas in fifteen states. Today, more than 50% of its assets are in the U.S. and around 45% of its total assets are "non-gas," according to Catherine Houde, a company spokeswoman.

The company doesn't really have competitors in the province, Sapin says. The name change had little to do with positioning itself against competing distributors and more to do with "[making] sure that the population and our clients know that we have evolved over the last few years."

The decision to change names "became evident at one point," says Sapin. Both internal and external stakeholders had begun asking when a change would be made. "It was really getting obvious that we had to make a move."

Gaz Métro worked with Cossette on developing the new name and brand identity, which includes a redesigned logo that maintains the brand's two shades of blue. It also consulted with brand experts outside of the agency who are specialists in the energy sector.

Last week, Énergir  launched an integrated campaign in the Quebec market designed to promote the new brand identity and make known that it hasn't been changed ownership. The Cossette-led campaign includes TV, movie, online, radio spots, as well as print and digital ads, signage, wraps and other content, and will run for a few weeks. For now, creative includes a reminder that Énergir is "the new Gaz Métro." Cossette Media is managing media planning and buying.