Pur Vodka rebrands ahead of expansion
The new label marks the second time the Quebec vodka company has rebranded in less than 10 years.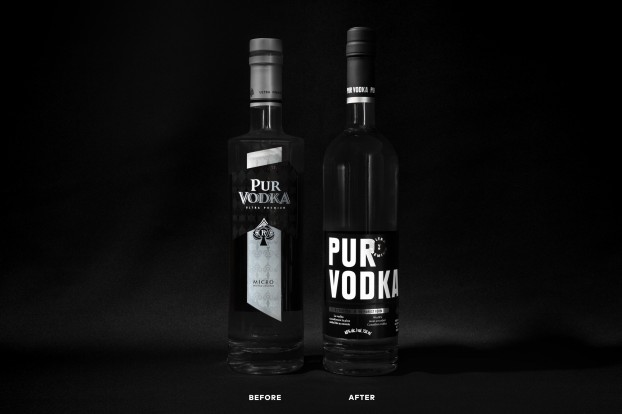 Canadian Vodka brand Pur Vodka has rebranded and redesigned its label ahead of its expansion into new markets.

The Quebec-based Vodka company – current distributed in Quebec and Mexico – rolled out its new label on Friday to coincide with its expansion into France, England and new markets within Canadian. It will be entering the U.S. in early 2018.

Nicolas Duvernois, the company's CEO, says he has always been "crazy in love" with the branding of his other product, Romeo's Gin. But with Pur Vodka, he says, it was always a "complicated love story," one that includes two rebrands since the product launched in 2009.

Having created Pur Vodka as a young entrepreneur, he wasn't satisfied with the first two iterations of the label, both produced in-house. This time, he's "100% convinced that it's exactly who we are."

Creating the right branding had become something of an "obsession," Duvernois says, so much so that the company had lost sight of its goal. So art director Christina Fayad suggested they "go pick other people's brains," he says. That led them to Montreal-based Lg2, their first agency partner. Duvernois had worked with the agency on Adopte, a non-profit he founded, and figured they would be a good fit.

The new label is more simplified than before. It consists of a black background, a brief description of the brand's history, a maple leaf to remind consumers of its origins and four embossed metallic medals from wins at vodka and spirits competitions. With sufficient international awards to back up its claim as one of the world's top vodka products, Duvernois says it was "time to show off a little bit," something he'd previously been shy to do.

Duvernois hopes that the new label showcases the brand's "entrepreneurial story" and reminds people that "success is not only a result, but a path also." Launching Pur Vodka proved to be a complicated and difficult endeavour for the young entrepreneur.

Not only was he 24 years old and working as a janitor in a Montreal hospital at the time, but he had a political science degree and a restaurant he'd started with close friends had failed. It took him four years to sell his first bottle of Pur Vodka. And after getting rejected by the SAQ, he found himself with 10,800 bottles of product on his hands. That's when he had the idea to enter Pur Vodka into a competition, which it won. Suddenly, the SAQ was interested in doing business.

To promote the new branding, the company launched a Thara Communications-led campaign that saw it distribute 218 special bottles to prominent Canadians from a wide range of backgrounds, including Celine Dion, P.K. Suban, Justin Bieber, Olympic athletes, YouTubers, TV personalities, journalists and cooks. The bottles came with the new label, except "Pur Vodka" was replaced with the name of the recipient.

The brand hasn't asked anything from those it has sent the bottles to. Rather, it was meant as a gift, Duvernois says. Any influencer-style marketing that results from it is a bonus. About half of the people have received their bottles so far, with others receiving theirs before the end of next week. The brand also produced 20-second and 6-second videos to support the campaign.

Pur Vodka has earned 57 awards since 2009 – including having been named the world's best vodka five times – making it the world's most awarded Canadian vodka, according to the company.