What's getting old is new again: column
Lg2's Keith Barry on how growing up means rethinking what you thought you knew about millennials.
By Keith Barry
The word "millennial" makes me cringe.
My distaste for the term is not because it conjures up the perpetuated image of a self-obsessed complainer; face-first in their phone, Instagramming their next side-hustle. No. I can't stand the word for two reasons: firstly, as a strategist, I believe that using any single term as a catch-all to describe one of the largest consumer groups – particularly since they are each unique as #snowflakes – is not helpful. Secondly, as we enter 2018, roughly half are wrapping up their twenties or are already well into their 30s and, as such, are experiencing changing priorities in their lives that far outweigh the importance of their generational categorization.
Millennials are becoming adults with new obligations. They are earning more, buying homes (at least outside of the downtown Toronto and Vancouver core), and in some cases they are starting families (if they haven't already). So, as marketers, there are three questions we should be asking ourselves: how will millennials behave now that they are adulting? What will they expect from the products and services they choose? And how can brands keep pace with their maturing priorities and needs?
As we look at how they're affected by the next life stage, one thing is certain: they will expect technology to integrate seamlessly, just as they always have. More importantly, they will continue to seek unique and authentic experiences, transparency and convenience from brands that help them evolve their new identities as business leaders, parents and/or homeowners.
Millennials are now more able to invest in luxury products and experiences. But don't expect old world luxury to be enough to satisfy their needs.
Porsche is an example of a premium legacy brand not resting on its laurels. In late 2017, it introduced a pilot program – called Porsche Passport – that caters to the maturing demo. Customers can apply for a subscription that gives them access to a fleet of new vehicles for as little as US$2,000 per month. It's an exceptional way to attract new, affluent millennials to the brand while allowing them the flexibility to explore its product in a convenient, turn-key manner (insurance and maintenance is included).
OK, but what about those who have to prioritize real, everyday needs, but still seek quality products and experiences that fit their new adult life?
Everlane is a remarkable up-and-coming brand designed with this crowd in mind. The (mostly) online fashion retailer was launched in 2010 with a focus on high quality clothing at reasonable prices. What's most interesting though is how Everlane promotes their notion of "Radical Transparency," where customers can see precisely what it costs for the brand to produce and ship their products and even how much profit they make. They are equally transparent about how everything is fabricated by detailing their manufacturing processes around the globe. And it seems to be working. It has a strong following in social, double-digit growth and recognition by retailers like Nordstrom, which recently launched Everlane experiences in their Canadian stores.
And, finally, as they move out of their parents' basements, millennials expect brands to assist by adding a layer of excitement and convenience.
Amazon, for one, has made it abundantly clear that, as this group moves out, it wants to move in with them. The retail giant recently announced a new program, Amazon Key, which allows their packages to be dropped off securely inside customers' homes via a connected lock and camera system. Amazon's Alexa is also finally available in Canada and we can expect her to create seamless and integrated in-home experiences with brands like Nest and Sonos in the new year. Even furniture shopping has been designed to suit the needs of this group: by adding an augmented reality feature to its iOS app, Amazon allows you to see how a new chair could match with the gold pineapple on your side-table before buying.
These are a few examples of brands that are working to serve the needs of this aging demo. It's not difficult to see that there are countless other opportunities within this massive generation as it evolves. Yes, it can be complex and requires effort, but we have more tools than ever to develop and test-and-learn ways to speak to all sub-groups within this broad target, and not just the buzzword group who borrows cars, ethically sources their free-range jeans and speaks to their homes as though they can magically solve all of their #firstworld problems.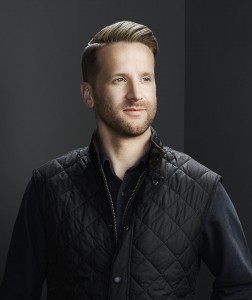 Keith Barry is VP strategy at Lg2 Toronto.