Why hacking is helpful
A recent Dentsu Aegis hackathon helped creatives from multiple agencies get at new, data-driven ideas for clients.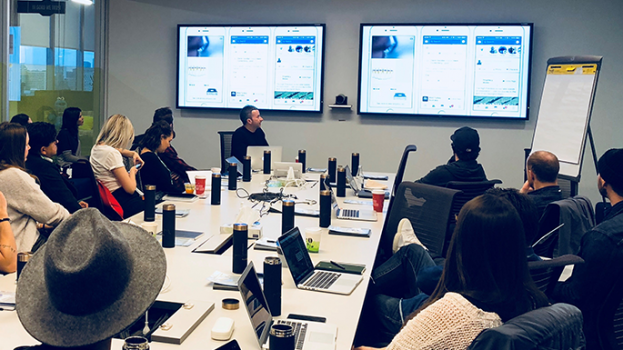 As much as Dentsu Aegis has done to encourage a collaborative approach between staff at its different agency brands, sometimes it is inevitable that creatives will default to working with their own teams.

"Creatives especially get so isolated in our own accounts and campaigns that we don't always know some of the stuff that goes on elsewhere in the network," says Kai Exos, co-CEO and CCO for Isobar Canada. "Not knowing how awesome someone is at a different brand or what they can do, I might not ever get to work on something with that person."

One of the ways it is hoping to expose its staff to new thinking and dig down to some innovative ideas is to bring its global hackathon series –the Craft Matters Creative Hack to its Canadian offices, which it did last week.

During the hackathon, four teams were formed by mixing staff from digital agency Isobar, creative agencies DentsuBos and Grip, lifestyle marketing agency MKTG and entertainment content agency The Story Lab.

The five person teams were given a live brief from a client (in this case, an unnamed food and beverage company) and tasked with coming up with an idea that addressed it while focusing on four themes: mobile-first design, data-led creative, immersive experiences and commerce.

Staff from Facebook also participated, giving teams guidance about trends and best practices for the site.

The local hackathon follows a model that Dentsu first used in 2016 to bring 20 senior creatives from across the global network to Silicon Valley for four days, working with a broader range of media partners that included Facebook, Google and Snapchat.

Exos spearheaded the effort to bring Creative Hack to the Canadian market after attending those events, and noted a few key differences that were purposefully built in to the local iteration.

His Canadian iteration was only a day and a half long. Strategists were included on teams in addition to creatives, reflecting the emphasis that is placed on strategic thinking in this market. There was only one media partner. And based on the nature of the unnamed client's business, teams were permitted to create ideas for the masterbrand or one of more than a dozen of its sub-brands.

Those differences came with a number of advantages. The client's many brands could be used as another tool with which to tackle the problem presented in the brief, and having a single media partner kept the teams highly focused to make the most of their smaller time frame.

Beyond just having the expertise of different agencies in the room, having a media partner like Facebook present meant knowing instantly whether an idea is possible on their platform or not. Those extra viewpoints are part of what make hackathons particularly useful.

"We get used to each other when you work together so much," Exos says. "When you have other agency brands and partners like Facebook, they can come with view points that you might not have considered."

The Creative Hack was more focused on generating "innovative thinking" than it was on creating techy solutions with AR or robotics, as typically comes to mind when thinking about hackathons. But one big emphasis was on utilizing the one thing most innovative ideas have in common: data.

And while it can be challenging to get real-world insights from an intangible data set, the nature and timeframe of the hackathon forces new ideas to be more grounded and direct, unlike a regular pitch where you might have a few weeks to prepare.

Local versions of the Creative Hack also took place in the U.S., Australia, Singapore and the U.K. last week. Exos says more will be done in the future, and the global network has invested in a digital platform that will allow for these kinds of collaborations to happen live on a global level.