Cystic Fibrosis Canada gives donors reasons to donate
This year's holiday campaign continues the non-profit's integrated approach to reach outside its community.
Cystic Fibrosis Canada is aiming to continue expanding its community of donors and volunteers with an emotional, integrated approach in this year's holiday fundraising campaign.
Every day in December, the organization is sharing stories of a different person living with cystic fibrosis, be it a child who has the disease or a family member supporting them. Each story is presented as a different "Reason to Give," providing a snapshot that people can relate to, even if they have never dealt with cystic fibrosis themselves.
The stories in "31 Reasons to Give" are being shared through photos and videos on social and web platforms, as well as the organization's direct and email marketing. Cystic Fibrosis Canada worked with production house Viva Media on the photography and videos for the campaign, with social change agency Grassriots managing online elements. It also worked with Engaging Networks on its online fundraising platform.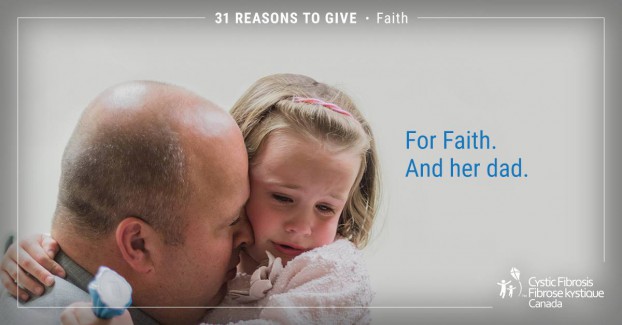 Jennifer Nebesky, interim co-CEO and CMO at Cystic Fibrosis Canada, says the organization has typically done well connecting with what she calls the "CF circle," people who have been personally impacted by the disease. The org traditionally targets this group with direct mail and events, but last year it made an effort to better integrate its messaging across direct, digital and social in its first fully integrated holiday campaign. That campaign took an emotional approach – showing the moment different families found out a child had cystic fibrosis – so it could connect with a broader audience, no matter which touchpoint exposed them to the stories for the first time.
"Since the stories were inspiring, but also human and relatable, we drew in more people," Nebesky says. "It engaged people who didn't really know about CF through that shared experience that they could imagine themselves going through."
She adds that last year's holiday campaign got 11,000 new people involved with Cystic Fibrosis Canada, be it as a new donor or as a volunteer. So far, this year's campaign has already exceeded its fundraising goal, doubling the amount raised last year.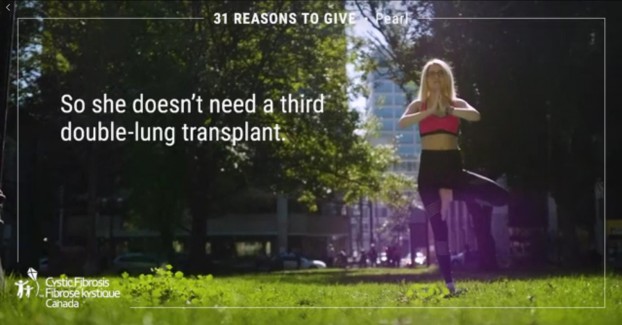 In May, the organization took its new integrated approach to an advocacy campaign that encouraged people to sign a petition to improve access to medication. It took a "day in the life" approach, showing friends and loved ones as they care for people dealing with cystic fibrosis.

The results from the last two campaigns were what convinced the organization to again focus on the "human stories" for this year's holiday campaign.

"These campaigns have showed us that the general public really connects with our community," Nebesky says. "Building off everything we learned, we were able to see that it was the people in our community that were inspiring those outside of it to give and get involved."

Nebesky says it will take the learnings and develop a new integrated campaign in 2018, which will aim to further create a "big picture, omnichannel journey" for potential new donors and volunteers to get involved.