Fujifilm captures the tangibility of instant photos
In its latest campaign, the brand aims to convince consumers of the joys of keeping physical copies of their most cherished moments.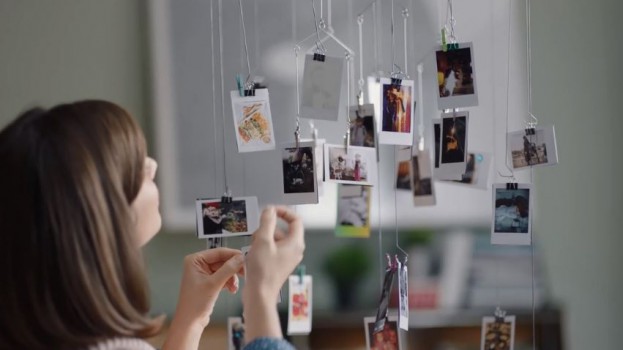 To tackle the challenge of making a physical product desirable in a digital-first environment, Fujifilm is running a campaign designed to remind consumers of the joy that comes from capturing moments tangibly using its Instax and Mini 9 cameras and SP-2 phone printers.

The DentsuBos-led campaign will run through Dec. 31 in cities across Canada, with a primary focus on markets in Ontario, Quebec and British-Columbia. The campaign includes TV, online and cinema spots, as well as an out-of-home effort in New York City.

One 15-second spot shows a woman printing photos using her mobile phone and a SP-2 printer. That piques the interest of one of her subjects, as he watches her suspend the photos from the ceiling; however, he mistakes the image for a GIF of some kind. "Don't forget to tag me," he says at the commercial's end, confused about the concept of physical photos.

A slightly shorter video captures another element of the campaign. Fujifilm wanted to reflect the instantaneity of Instax photography and to put the brand in the hands of consumers. So with the help of Dentsu media and 360i Canada, it developed heat sensitive coffee sleeves that reveal instant photos when filled with hot liquid.

The idea was to reach its target demographic – predominantly women aged 18 to 34 – in specialty coffee shops, where millennials often go to hang out, according to Dentsu's research. It also wanted to remind them of the enjoyment of developing instant photos. The agency worked with Eat It Up Media, a Montreal-based agency that specializes in food and restaurant-centered experiential campaigns, to get the sleeves into the hands of consumers across a network of coffee shops that includes several Caldense Bakery, Thobors Boulangerie Patisserie Café and Presse Café locations.

The Dentsu Aegis Network-owned agencies worked on a digital-first campaign for Instax cameras over the summer and on an influencer campaign for the brand in collaboration with Vrak, a French-language specialty channel, last fall.

Andrée-Anne Martel, accounts supervisor at DentsuBos, says the pre-holiday season is an important one for the brand, whose products can be easily gifted. She says the campaign's late-November launch allowed the brand to stand out ahead of dicount days in November and December.

Fujifilm focused its efforts on the Toronto, Montreal and Vancouver markets due to their demographic weight and higher product awareness. Martel says those markets are being favoured for cinema screenings of the SP-2 spot as well as the coffee sleeves tactic.