Swiss Chalet tests millennial-friendly concept store and menu
How a renovated Barrie location fits into the restaurant's plan to attract diners outside its typical 55-plus customer base.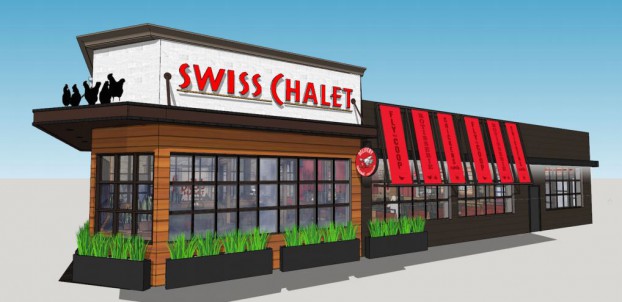 Swiss Chalet is on a mission to attract a younger generation of guests, and it's hoping to accomplish that with the help of a new design concept and millennial-focused menu options.
The Cara-owned brand is market testing a modernize concept in Barrie, Ont., one of the chain's busiest locations and a company corporate hub. Swiss Chalet plans to roll out the concept across Canada to about 20 to 30 stores per year over the next several years.
The renovated Barrie location is the fourth iteration of the concept tested over the past two years, according to Ken Otto, president of Swiss Chalet. He says the brand has also done renovations on stores in Lindsay, Ont. and Dieppe, N.B., the learnings of which have been incorporated into the Barrie concept, along with new menu options, plateware and staff uniforms.
In a first for Swiss Chalet, the design includes three different zones: a dining room, a fast-casual express section and a pick-up area for take-out. The traditional dining room was designed to be moderate and comfortable, compared to another zone that is a little more casual and comes equipped with high-top seating, a bar area and more televisions, which the brand is referring to as the "watering hole." Finally, there's the express service portion of the restaurant, where customers can order at the counter as they do in many QSR establishments.
In redesigning its restaurant, the company was responding to consumer research it had done "a few years ago" in addition to ongoing customer feedback. The data showed that consumers enjoyed Swiss Chalet's food, but felt the decor package was dated and that changes could lead more of them to dine in the restaurant more often.
Otto says Swiss Chalet sales have gone up in the stores were the modern concepts have been tested, thanks to an increase in customers of a younger demographic. He adds that the brand's most loyal 55-plus customer base has also responded positively to the changes.
"This design is all about giving the same old Swiss Chalet in our food," he says, "but in a much more modern and relevant environment."
The brand launched its "Dinner's Ready" platform in October with the goal of attracting more millennials raising families. Otto says the restaurant concept is about putting those platform goals into practice.
Two strategies guided the development of the new menu options, currently only available at the Barrie location. On the one hand, Swiss Chalet wanted to create more health-conscious options – such as a veggie-based power salad and sriracha honey Brussels sprouts – in a bid to attract younger customers. However, the brand also sought to create modern items based on the classic foods it has become known for. Those options include a taco poutine featuring rotisserie chicken in ancho sauce with taco toppings and deep fried mac and cheese balls with jalapeno and bacon.
"It's what we're famous for, but with some menu items that we think are a little more diverse and speak to the palate of a millennial Canadian, right down to having hot sauce at the table," says Otto.
The new menu options were developed by Tallis Voakes, the restaurant's executive chef. Otto says Voakes was brought on for his knowledge of Canadian eating trends and his ability to please a new segment of consumers, while keeping the brand's loyal base happy.
Swiss Chalet worked with Jump on the design concept and Zeno Group on PR.