Canada Goose embraces the winter weather
The outerwear brand celebrates the season with a giant crest in the snow of the Rockies.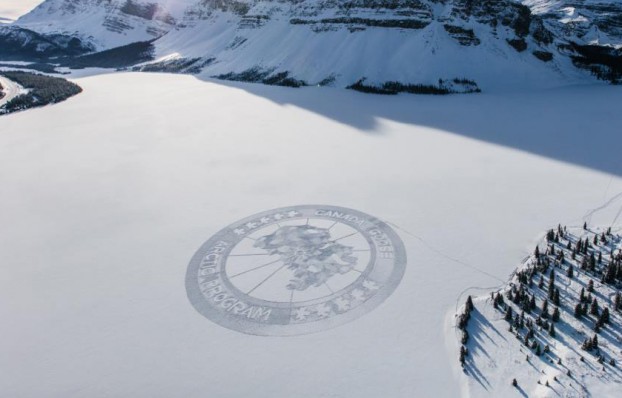 With bitter winter temperatures gripping much of Canada this week, most of the country is avoiding going outside at all costs. But if your brand is built around withstanding the harshest conditions this country can throw at a person, that shouldn't be a problem.

For a recent campaign, outerwear company Canada Goose enlisted Simon Beck, an artist known for creating art in the snow. Using nothing more than a compass and the snowshoes strapped to his feet, Beck carved a giant Canada Goose crest – the one found on all of its parkas – in the snow and on top of a frozen lake in the Rocky Mountains. Created over the course of 13 hours, the final product was 650 feet wide, or slightly larger than two football fields.

A video showing Beck's process was released, appropriately, on the first day of winter. Clips from the video have been shared on Canada Goose's Facebook, Instagram and Twitter accounts to drive people to watch the full video.

Thematically, the video takes a similar approach to the "Out There" executions of past years, which also showed rugged Canadian landscapes and told stories of people who brave the elements.

In addition to opening a new store in Calgary in 2017, Canada Goose – which went public nearly a year ago – has also been continuing its efforts to expand internationally, opening new flagships in Chicago, Boston, London and Tokyo last year, while also bringing e-commerce service to Germany, Sweden, Netherlands, Ireland, Belgium, Luxembourg and Austria. The brand has also been expanding its product line beyond parkas and outerwear.