Ontario's lighthearted approach to climate change
A new campaign for the Green Ontario Fund suggests saving the planet may shrink more than your carbon footprint.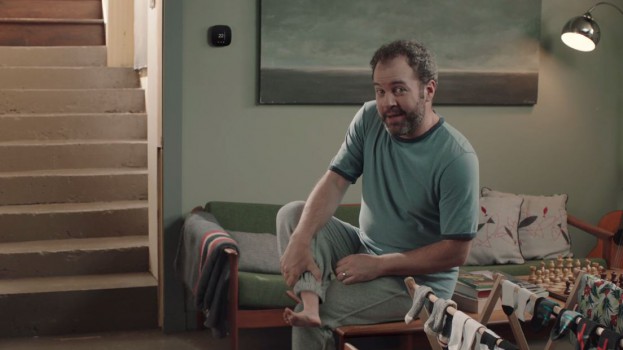 The Green Ontario Fund, a non-profit provincial agency dedicated to fighting climate change, has launched a new campaign to encourage Ontarians to partake in its programs designed to save them money as they save the planet.
A series of 30-second spots developed by Bensimon Byrne take a humorous approach to the climate challenge, using Ontarians with comically small feet – a play on carbon footprint – to drive the organization's message home. The commercials encourage viewers to visit GreenOn.ca to learn more.
The campaign launched late last week and is running on TV, digital and social. A large experiential component will be activated in March, following the current ten-week effort, bringing the total duration of the campaign to about 16 weeks. Joseph Bonnici, partner and ECD at Bensimon Byrne, says the agency has not yet decided on the form the experiential component will take, but that it is likely to involve "shrinking" of some kind.
The campaign ads are intended to bring a little lightheartedness to a serious issue. When Bensimon Byrne first started working with the Green Ontario Fund, it pulled 16 Time magazine covers about climate change, all of which focused on the negative impacts that will be felt in the coming years if action is not taken.
"Our whole philosophy is that people are just dead to that approach," says Bonnici. "They're not hearing it. It doesn't inspire them to act. They're just seeing the same thing over and over and over again."
That insight has prompted the agency to take a more positive approach in climate-related campaigns for the government of Ontario. Last year, Bensimon Byrne partnered with the Ministry of Climate Change on a series of digital ads called "Save the Everything" that sought to cut through the usual gloom and doom of climate change messaging with their wittiness.
Bonnici says that campaign was phase one of the strategy. This year's campaign builds off that approach by also offering a tangible solution for consumers, he says.
PHD is handling media for the campaign.