2018 MOY: Breaking bread with Andrea Hunt
How the Weston marketer revitalized her brands and reversed declining perceptions of baked goods.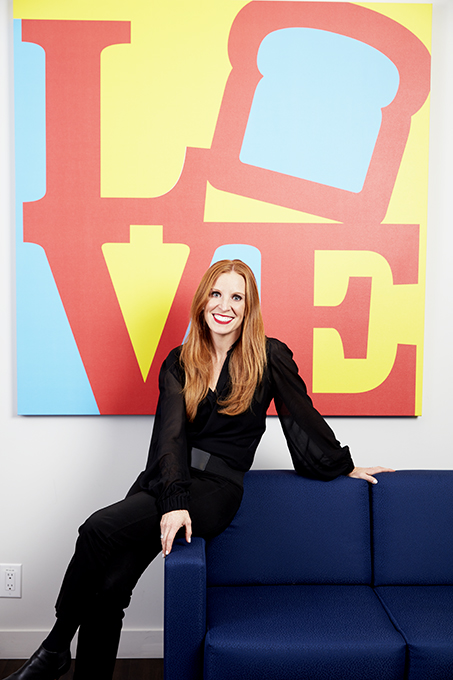 This article appears in the January/February 2018 issue of strategy
A pull towards healthy eating and greater awareness of what goes into our food — gluten being one of the most prominent examples — has contributed to the illusion that the baked goods category is in crisis.
"People say, 'I don't do bread,'" says Andrea Hunt, VP marketing at Weston Bakeries. More often than not, she says, these health-conscious eaters mean they avoid indulging on sliced bread. In reality, bread products and other baked goods remain an integral part of Canadian diets, with packaged bakery finding its way into 99% of households.
Hunt explains this over a plate of crostini with melted cheese – as though trying to make her point. A typical family household has seven baked good products in its pantry at any given time: a combination of white, whole-grain and gluten-free breads, English muffins, bagels, wraps, tortillas, burger buns and more. Still, countering the prevailing perception of category decline has been one of Hunt's biggest challenges as the company's marketing lead.
To revitalize the Weston Bakeries brand portfolio, Hunt brought a new level of vibrancy to the category. The ultimate goal was to reframe the conversation by generating excitement with new products and an unapologetic positioning, so that consumers are more willing to purchase baked goods, no matter their lifestyle – without the guilt or hesitation.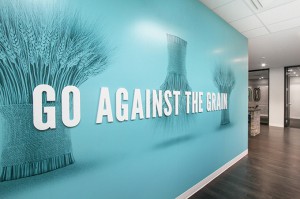 Hunt joined Weston in late 2015, having previously worked at CIBC, Kellogg, Molson and Kraft. Before Weston, she was VP and North American innovation lead at Mondelez International. She was there when Mondelez split from Kraft and previously witnessed the transformation of Molson to Molson-Coors. Each of these major shifts taught her to "reconsider the nuts and bolts of the business, how and why we do things, and then how to do it all better, faster and with less resources."
She was brought on at Weston to transform the company from being focused on operational efficiencies to being led by consumers – all with an unchanged marketing budget.
To signal a new marketing approach, Hunt first changed the physical environment of Weston's east-Toronto headquarters. Working with Jacknife on design, the company created a branded office environment intended to inspire employees and visitors alike. With visuals and artefacts from Weston's century-long history in Canada, the project – which won a Gold Marketing Award in Design earlier this year – includes neon signage, interactive boardroom installations, and wall wraps with copy like "Go against the grain," "We knead you," and "I bake, therefore I am."
A transformed office space was just the beginning. Hunt recruited new agency partners to lay the groundwork for a series of campaigns aimed at revitalizing brands that had gone stale. In October 2016, Country Harvest and Wonder Bread named Union and Rethink their respective AORs. The following month, Country Harvest launched its new Rustic Bean Bread, a pulse-based product aimed at reaching health-conscious consumers, and worked with its new PR agency of record, Edelman, to spread the word through influencer marketing.
Hunt also assembled a mostly new, roughly 20-person internal marketing team to facilitate its shift towards a consumer-first mindset. She recruited employees better suited for the company's new priorities – they had to have deep consumer insights, good strategic thinking, rigorous knowledge of analytics, and a strong marketing instinct.
"The people who were brought in had deep CPG backgrounds and a strong sense of brand equity," she says, "because in many cases we were building new foundations."
For example, when Hunt arrived, D'Italiano's Canadian market share was dropping. But a late-2016 packaging overhaul and new integrated campaign encouraging consumers to "Live Large" – a nod to the brand's Italian pedigree and way of life – helped it springboard back into the minds of consumers.

It was D'Italiano's first campaign in three years, and illustrated the passion many consumers have for bread products. It also leveraged the brand's literal size; D'Italiano differentiates itself in the category with its larger and thicker slices of traditional white bread.
The "Live Large" campaign's "Tenor Takeover" component, launched a year later with the help of Union, Dentsu and Edelman, was particularly successful at tapping into the brand's unapologetic bread-loving consumer base. It featured a pair of Italian tenors who took over YouTube's desktop homepage with a live music stream. Visitors were invited to tweet comments about the brand directly from the homepage; if deemed appropriate, they were included in the operatic tune being improvised by the tenors.
The stunt garnered the most impressions of any so far under Hunt's leadership. Over a 24-hour period, it generated some 23,000 hours' worth of watched content, more than the previous 11 years combined. The effort proved to be so successful that Google has since used it as a global case study.
Hunt says the "Tenor Takeover" initiative exemplified Weston's new consumer-first approach; it offered a chance to deliver the brand's "Live Large" message directly to consumers, while opening a direct channel for feedback via the conversation taking place online. Moreover, the tenors became the literal personification of the brand, bestowing it with a new sense of grandeur. Year-to-date, the result has been a 14% increase in market share for D'Italiano.
Hunt knew that reinvigorating individual brands would not be enough. Weston required a full-portfolio strategy with specific roles and objectives for each mark.
For Hunt, this means balancing health-conscious options with more traditional ones like D'Italiano. Although gluten-free products have dominated the conversation recently, less than 2% of the population is intolerant to gluten and gluten-free accounts for only 2% of total bakery. Weston's own All But Gluten gluten-free brand leads in the category, but Hunt says it hasn't become the fly-off-the-shelf bestseller the team expected when it was launched in 2013.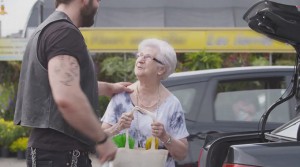 Still, consumers have been moving towards organic foods that deliver on taste, and Weston has adjusted accordingly. Over the summer, Hunt led the country-wide launch of Dave's Killer Bread in grocery, drug and convenience retailers. Dave's is a super-premium tier product that is GMO-free and made with real grains and seeds. It's also become one of the fastest growing breads in the U.S., thanks to its unique taste, texture and appeal to health-conscious consumers.

In keeping with Dave's edgy character, a campaign video by Rethink in support of the launch, featured intimidating men approaching passersby on the street and offering them a taste of Dave's. (More than one person is visibly startled when seeing the men). The non-scripted, authentic nature of the exchanges turned the effort into a humorously memorable campaign, which saw PR led by Edelman and sampling handled by SDI Marketing.

"If you're looking to revitalize, you need to bring something that is a little jarring, a little disruptive, and to make people think a little differently about bread. Dave's was really the ideal brand for that," Hunt says. "There's always a risk when you lean in and use real people and it's a real scenario, but in this case, it felt like a bit of risk would be well placed… If it had felt too done, it wouldn't be right for the brand. And it wouldn't have garnered the appropriate reaction."

For Hunt, it's imperative that the baked goods category be perceived as vibrant, "because it gives people the permission and freedom to feel like they can eat without guilt."