Life is Good taps the power of happy thoughts
The apparel brand's Power of Optimism Machine allows customers to pour themselves a glass half full of positivity.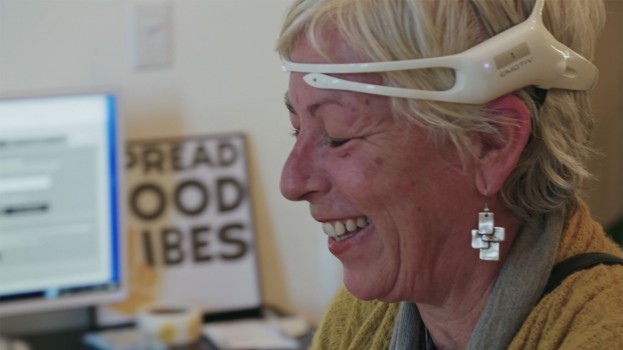 Lifestyle apparel brand Life is Good set out to demonstrate the power of positive thinking and ended up giving literal meaning to the expression "glass half full."

The company developed what it calls the Power of Optimism Machine, allowing users to fill a glass of water using only their positive thoughts. The machine was jointly developed by Toronto creative agency The Garden and digital production studio Thinkingbox.

The Power of Optimism machine uses electroencephalography (EEG) technology, a system that records electrical signals emitted by the brain. Equipped with headgear, participants are asked to think happy thoughts, or are otherwise exposed to positive stimuli, which are then captured by the EEG. Using Emotiv-based command technology, the machine sends a signal via Bluetooth to a tap that is turned on and off using a micro-controller, thus filling the glass.

Joanne Fletcher, senior brand director of Life is Good Canada, says the goal was to get people to focus on the positive things in life. It wanted to take its brand messaging around the "power of optimism" and transform it into something tangible, while bringing attention to the research that has shown the positive mental and physical health benefits of maintaining a positive attitude.

"With this campaign, we wanted to find a simple way to bring our brand mission to life and physically demonstrate the power that optimism has to create positive energy within us," she says. "Focusing on the good is a quality often associated with Canadians, so we thought this activation would resonate with our community of brand fans and help us to rally more Canadians around who we are as a brand and the positive purpose we strive to make through the products we sell."

For now, the machine is available for customers to experience in the brand's Canadian showroom. Fletcher says the intention is to bring it to retailer events throughout Canada this year.

Since having launched as a t-shirt selling business in Boston, Life is Good has grown into a $100 million lifestyle brand sold by more than 2,000 retailers across Canada and the U.S.