CBC invites Olympics fans to stay up late
The pubcaster wants Canadians to do whatever it takes to watch the PyeongChang games, despite the time difference.
In a few weeks' time, Canadians wishing to follow live coverage of the 2018 Olympics in PyeongChang will either have to survive on little sleep or find a few moments to nap at work. Thanks to a 14-to-17-hour time difference with the South Korean city, athletes will be hitting the slopes and ice rinks just as Canadians are preparing for bed (or getting out of it).
As the official broadcaster of the games, CBC/Radio-Canada is embracing that challenge with a social campaign that encourages Canadians to stay up all night if necessary and to partake in the experience using the hashtags #UpWithCBC and #UpWithCBCOlympics.
While significant time differences are a regular reality of the Olympics, it's the first time CBC has put that at the heart of a campaign. Its marketing approach to the 2014 Winter Olympics in Sochi – which marked its return as the games' broadcaster in Canada – was anchored on "the fandom and national pride" Canadians feel during the Olympics, says Nadia Flaim, senior manager of marketing and communications for CBC's sports and Olympic Games programming. The marketing "didn't really address" the more than nine-hour difference Canadians experienced during those games.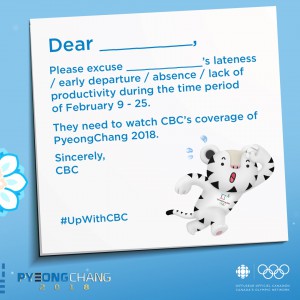 This time, Flaim says, CBC has developed a campaign that "stems from the idea that you can literally flip the clock – day becomes night and night becomes day." The idea was to keep Canadians awake or to get them up early enough to enjoy the competition.

Creative assets were mostly developed in house and include a "Roar" spot (the only one to be jointly created with agency Bensimon Byrne), several "I Am Olympian" videos showcasing athletes' stories and others promoting shows that are part of CBC's Olympic coverage. In addition, digital ads with time-related messaging – including a cheeky "permission slip" for employees (pictured, right) – will be promoted through the network's social channels. Finally, PyeongChang schedule books with VR glasses are available at CBC and Cadillac Fairview locations across Canada, as well as at CBC viewing events.

Flaim says these will be "the most connected games to date," but that hasn't deterred the broadcaster from prioritizing live coverage of the event. Fans will increasingly be able to get highlights in real-time through digital channels, in addition to linear television.

Since the upcoming games are the first of three consecutive Olympics to be held in Asia, the CBC expects it will continue using some of the same messaging in the years ahead.