Huggies shows a different side of 'No Baby Unhugged'
The diaper brand explores new, sensitive territory to mark the opening of a baby hugging program in Nanaimo, B.C.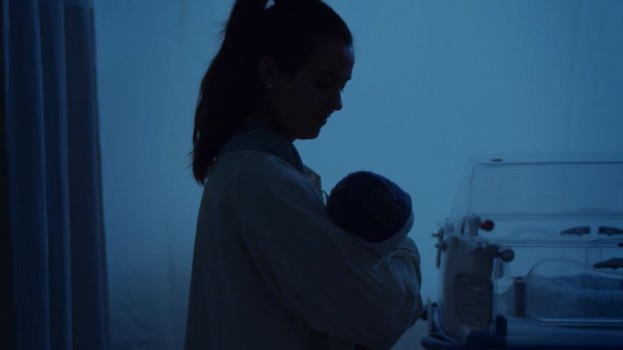 To mark the opening of a new baby hugging program in Nanaimo, B.C., Huggies Canada has released another video as part of its ongoing "No Baby Unhugged" initiative.

The Kimberly-Clark-owned diaper brand's "Behind the Door" short film, created with Ogilvy Toronto, marked the opening of the volunteer-led hugging program at Nanaimo Regional Hospital – the fourth supported by Huggies. It released the film on social media on Jan. 21 to coincide with National Hugging Day.

The latest spot is somewhat different than others in the series – which has received a number of industry awards and has been picked up by markets outside of Canada – in that it doesn't raise awareness of the specific physical and emotional benefits babies get from hugs. Rather, the story centres around Gillian, whose grand-daughter was born addicted to fentanyl and heroin.

"This is the first time we've told a story like this as a brand," says Nadia Malowany, senior brand manager at Huggies. "It's a sensitive and highly emotional story, but it's absolutely worth sharing because it demonstrates the very real and important need behind hospital hugging programs."

The programs involve having volunteers visit neonatal intensive care units to hug and cuddle newborns, providing them with the love and attention necessary to thrive when the parents' circumstances prevent them from being there.

The "No Baby Unhugged" program launched in 2015. Since then, Huggies has helped Canadian hospitals provide some of the most vulnerable babies with hugs through programs supported by $25,000 grants.

"The campaign itself really brings to life the Huggies brand promise to ensure all babies get the hugs they need to thrive," Malowany says. "Essentially, what we're doing as a brand is we're shining a light on the power of hugs."

Malowany says that National Hugging Day is just one of several occasions that Huggies has attempted to deliver on its brand promise. Other videos in the series were released on Mother's Day, for instance.

The video has been posted on Huggies' Facebook page. For every share, the company will donate $1 to the "No Baby Unhugged" initiative.