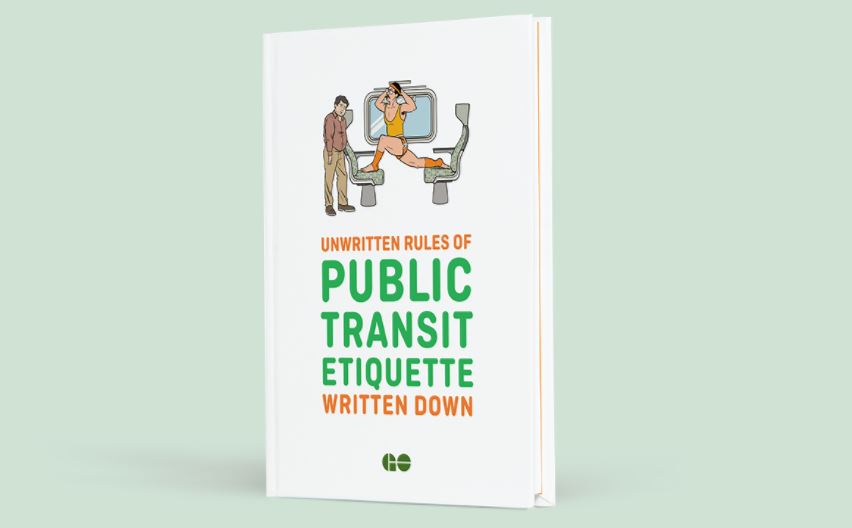 Ontario's Go Transit continues to build on a two-year-old campaign to curtail offensive behaviour on its trains and buses, with a new book that addresses frequent customer etiquette complaints.
The regional transit system has released Unwritten Rules of Public Transit Etiquette Written Down, a cheeky guidebook to avoiding what are considered the "etiquette fails" of public transit riding. For instance, the book details the "Top 40 musical genres you don't want to hear coming through someone else's headphones," and reminds riders that "proper hygiene is one of the cornerstones of our civilization" (however, bathing while commuting is never a good idea).
The book is the Metrolinx-owned body's latest effort to promote customer courtesy and etiquette. In 2016, it launched a social campaign that allowed riders to weigh in on their biggest transit pet peeves through on online survey. Paula Edwards, VP of customer service delivery at GO Transit, says she was "blown away" at how quickly the campaign sparked conversation. According to an in-house Go Transit survey, the campaign had resulted in a 26% drop in bad behaviour.
In November last year, around 50,000 people participated in a second online poll, which Edwards says Twitter Canada noted as being one of its most engaging of the year. Go Transit used the feedback received from the survey as the basis of its new book.
The idea to use humour in courtesy campaigns came about in 2016, as the company searched for new ways to inform riders of behaviours they may not realize are bothersome to others. Edwards says campaigns that merely point the finger are generally less successful at changing rider behaviour.
The book launched on Jan. 24 during an event at Toronto's Union Station and is being promoted through an integrated effort on social media. Excerpts will appear in social posts and print executions in Go Transit trains, buses and stations. It was developed with the help of DDB, with PHD on media.
Edwards says the book was downloaded nearly 4,000 times within the first two days, suggesting it would probably surpass the campaign's conservative target of 5,000 to an actual total of 6,000 downloads.