Samsung store 'transcends' its technology products
We go inside the brand's Eaton Centre experience store to learn how it's looking to offer more than just products on shelves.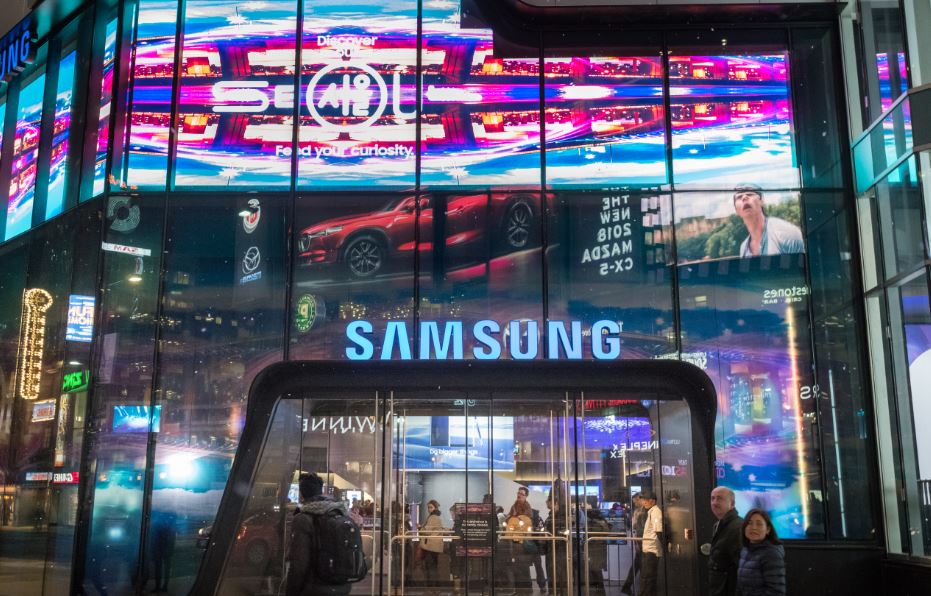 After a soft launch opening in December, Samsung Canada officially cut the ribbon on its latest Canadian flagship experience store at Toronto's CF Eaton Centre last week.
At the launch event on Jan. 25, Samsung staff and guests played the role of prospective customers, perusing the product displays and interacting with the brand's latest technology offerings. Visitors were treated to South Korean music and aerial dance performances. They could interact with artists creating custom phone artwork in real-time. Upstairs, chef Kristen Kish cooked up Korean fare in the store's built-in kitchen – the brand's first in Canada – designed to showcase its electronic appliances.
The two-storied location sits facing Yonge and Dundas, one of the busiest intersections in the country. It was expressly designed to be spacious, to better showcase the products displayed throughout the store. And curves are key to its aesthetic – everything from the service counters to ceiling fixtures are curvy in some way, including the grand, spiraling staircase connecting the first and second floors.
George Foussias, design director at Quadrangle, the studio that designed the space, wrote in an email that Samsung "wanted this store to focus on teaching people how to use their products and how all of their products integrate with one another. So they asked us to create spaces with different areas to assemble these stories." That, he says, is what prompted the "swirl motif – the idea that there's no end to it, and that everything connects and moves in circles."
According to Foussias, the staircase became a focal point of the design, both as a visual element and as "a means to draw people to explore [the] upstairs." Aside from a large window display that makes up three quarters of the store (in Foussias' estimation), the store is predominantly grey and white, which helps the products stand out.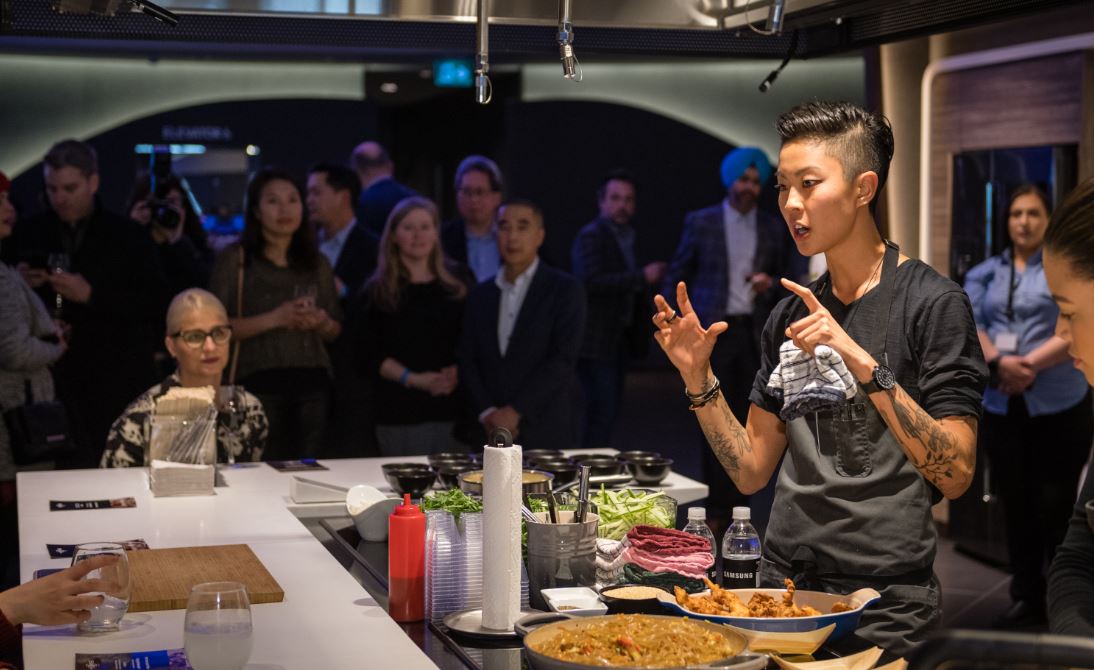 "Innovation is the DNA of everything that we do," says Mark Childs, CMO at Samsung Canada. "I think what this space is, more than anything else, is innovation in retail, bringing truly an experience to life that transcends the technology."
Patricia Heath, VP of retail excellence at Samsung Canada, previously told strategy that the new location was meant to tell the brand's internet of things story and to act as a "digital playground" in which consumers could interact with its entire product line.
The space is also being used to connect with consumers in new ways, including some curated talks on a transformable space on the second floor. "We're learning the space as we go," says Childs. "I think this will be an evolving space for us."
Childs points to a recent smartphone photography tutorial that was offered in-store as an example of the type of programming that will continue to "refresh itself." The week before the grand opening, Samsung hosted a talk by television personality and entrepreneur Amber Mac on "Demystifying Artificial Intelligence."
"I'm not sure that would have been on our roadmap a year or so ago," Childs says, "but it is now."
Samsung Canada recently launched a platform called "Discover our Seoul," whose theme and tagline were used for the upcoming Olympic Games, but Childs declined to comment on any campaigns that may stem from it.