Study: Many multicultural plans miss the biggest growth opportunity
Fresh Statistics Canada suggests budget should be allocated to halal marketing.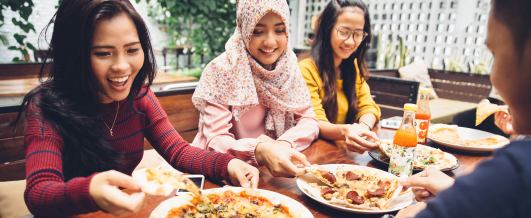 Today, most major CPG companies invest in multicultural marketing, often focusing on the population of 1.6M Chinese Canadians. And while this is a valuable focus, it ignores one of the biggest, and fastest growing, market segments. Recent Statistics Canada data estimates the country's Muslim population to be 1.4M. The same data projects the Muslim population will exceed the size of the Chinese ethnic market by 2021*.
For brands and grocery retail in particular, this stat indicates an increased focus on the halal market is strategic for near-term growth. But to profit from this burgeoning market, the first step is to build understanding.
Halal, demystified  
Similar to kosher in its scope, food that is halal has to follow certain rules and procedures during the making of it to qualify as halal. And while halal food unites Muslims of many backgrounds, it's important to understand that the market is far more varied than is often assumed. In fact, the Muslim halal demographic is made up of many different cultures that span the globe.
"When most people think Muslim, they think Arab. While there are over half a million Arab Muslims in Canada, there are almost double that amount of South Asian Muslims", says Salima Jivraj, head of headquartered Toronto Nourish Multicultural and founder of Halal Foodie and the Halal Food Festival. "Also, many don't realize that African countries like Somalia are almost 100% Muslim, as is Malaysia."
Diverse and thriving, yet underserved  
But despite being a diverse, thriving, and growing community, a recent study conducted by Nourish Food Marketing, Canada's only food industry focused multicultural agency,  found the majority of halal consumers feel underserved: 60% of respondents do not believe grocery food chains are doing a good job meeting their needs; 63% feel the same way about major food companies.
"Many companies," says Jivraj "have specific Chinese or South Asian marketing outreach plans, targeting specifically Hindu and Sikh members of the community. Even those brands without a year-round program will have special Chinese New Year or Diwali activations. The Muslim consumer is consistently missed, even though they represent the largest religious group among South Asian Canadians. This fast growing segment trusts big brands at a time when the general population is trusting big brands less and can be very efficiently targeted."
The Canadian Muslim population is projected to grow to between 5.6% and 7.2% of the population by 2036.
Projected population growth by religion in Canada 
 An opportunity for double-digit sales growth
According to Nielsen, which has started tracking the halal food market in the United States, among the grocers that have been ahead of the trend in the U.S. is Whole Foods, which ranks halal among its fastest-growing categories. Double-digit sales growth has been reported for this segment in each of the last five years.
Nourish has conducted an annual tracking study of the Halal Shopper since 2014. "All companies should be rethinking their overall multicultural spend, as most are under spending in this area." Says Jo-Ann McArthur, President of Nourish Food Marketing.  "As our population continues to become more diverse, companies should always be applying a multicultural lens to their programs. It's just smart business."
Indeed, 2016 Statistics Canada data shows the term "visible minority" is a misnomer for the Greater Toronto Area, with that group making up the majority of the region's population at 51.5%. It is estimated that half of all Canadian Muslims live in the GTA and the 2016 Halal Food Fest held in Toronto reported attendance of over 40,000 this past summer. An event of this size should be on most marketers' radar.
Due to Canada's immigration policy, this is a very well educated consumer group with strong earning and spending potential. "In an era of 1-2% growth, companies can no longer afford to miss this consumer," says McArthur.
---
Nourish Food Marketing is Canada's only full service marketing agency exclusively working with clients in the food and beverage industry, with offices in Toronto, Montreal and Guelph.   For more info / insights on how to build out your multicultural marketing programs contact Salima Jivraj +1 (647) 300-5679 salima.jivraj@nourish.marketing