Contiki creates a helpful travel bot
Dubbed Tiki, the bot helps young travelers through the process of choosing from more than 300 potential trips.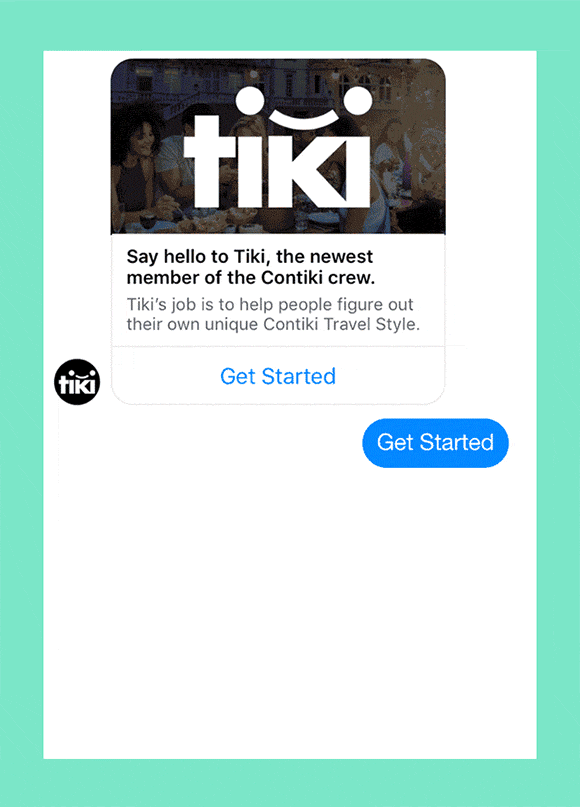 Contiki Tours has launched a new bot as part of its efforts to connect young travelers with the brand and help them navigate a diverse offering of travel options.

Called Tiki, the Facebook Messenger bot aims to help users choose from the more than 300 different trips the company offers.

The bot will ask users questions about things like their personality, preferred travel partners and favourite activities, all while taking a light-hearted approach peppered with jokes, GIFs and other content.

Ultimately, it will use answers to questions to align users with one of Contiki's eight "travel styles" it uses to categorize the interests and desires of its customers, providing them with a selection of trips that is right for them.

Tiki was built on Chatfuel, a bot-building platform for brands, and utilizes Google Dialogue Flow, which manages natural language processing and recognition features.

The bot is launching in conjunction with a new "Travel Styles" campaign from Contiki that, much like the bot, aims to align would-be travelers with one of the eight different "travel styles."

Lauren Howard, director of marketing and digital strategy at Contiki Canada, said adding a bot of this nature is well-suited to the needs of Contiki's 18- to 35-year-old clientele and the campaign's goal of helping that cleintele understand the company's selection of travel experiences.

"They aren't looking for a one-size-fits-all travel experience, and we've made a concerted effort to address this through our trips and travel styles," she said, adding that the bot allows the brand to "deliver an experience that matches their expectations."

On top of the consumer-facing applications of the bot, Contiki plans to use data collected through interactions with Tiki to remarket to users with personalized messaging through email and other forms of media.