Manulife quizzes Canadians
The financial services co. uses the game show format in a lighthearted campaign that highlights insurance benefits.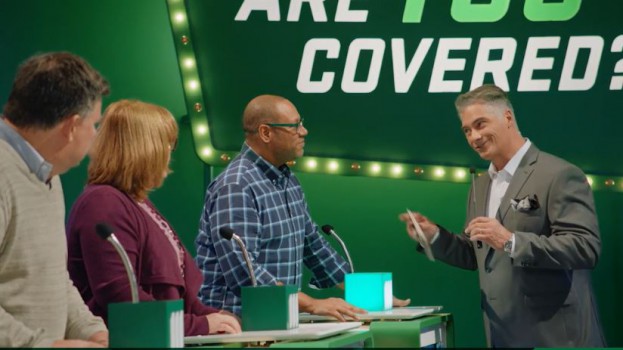 Manulife is trying to make insurance feel like less of a burden on consumers with the launch of a new campaign for its direct insurance business.

The financial services company's "Are You Covered" campaign launches today and will run on TV and digital channels, with a three-spot series promoting its health and dental, travel and life insurance products.

The 60-second commercials are based on the game show format, with each focused on a particular segment of the insurance business. The contestants, Canadians without group benefits or who are self-employed, answer insurance-related trivia on a show called "Are You Covered?" The goal is to "test their knowledge of out-of-pocket health costs" for those who aren't insured.

Creative was taken up by The Greenhouse, Manulife's in-house creative agency.

Leisha Roche, VP brand and marketing for Manulife's Canadian division, says "Are You Covered" is the company's attempt to take a novel approach to the direct insurance category, differentiating itself from "talking head" competitors who often use generic facts about insurance. It began with the insight that many consumers view insurance as a burden, confused about when they need it – if they even need it at all – and believing that providers won't always pay their claims.

"We wanted to shift that mindset from insurance is a burden to insurance is a benefit," she says.

As a global financial services company, Manulife targets different consumer segments across its various businesses. In this direct insurance campaign, the company is targeting people coming off of group plans (primarily retirees) and people who are self-employed, but also travellers and immigrant families. Roche says Manulife has seen a "huge surge" in people creating their own businesses or working independently, without the benefits of a group plan, in recent years.

Roche says Manulife has also taken a different approach to its media spend. Retirees are watching a bit more TV than those who are self-employed and who generally skew a little bit younger, she says. In the past, Manulife invested more heavily in TV, but it spent more on digital with this campaign in an effort to reach the self-employed market.

Its previous "Uncover the Investment Truth" or "Uncover the Mortgage Truth" campaigns were 100% digital.