Edo Japan opens millennial-friendly eatery
The restaurant is rolling out its Fresh Take speed and convenience-driven concept ahead of further Canadian expansion.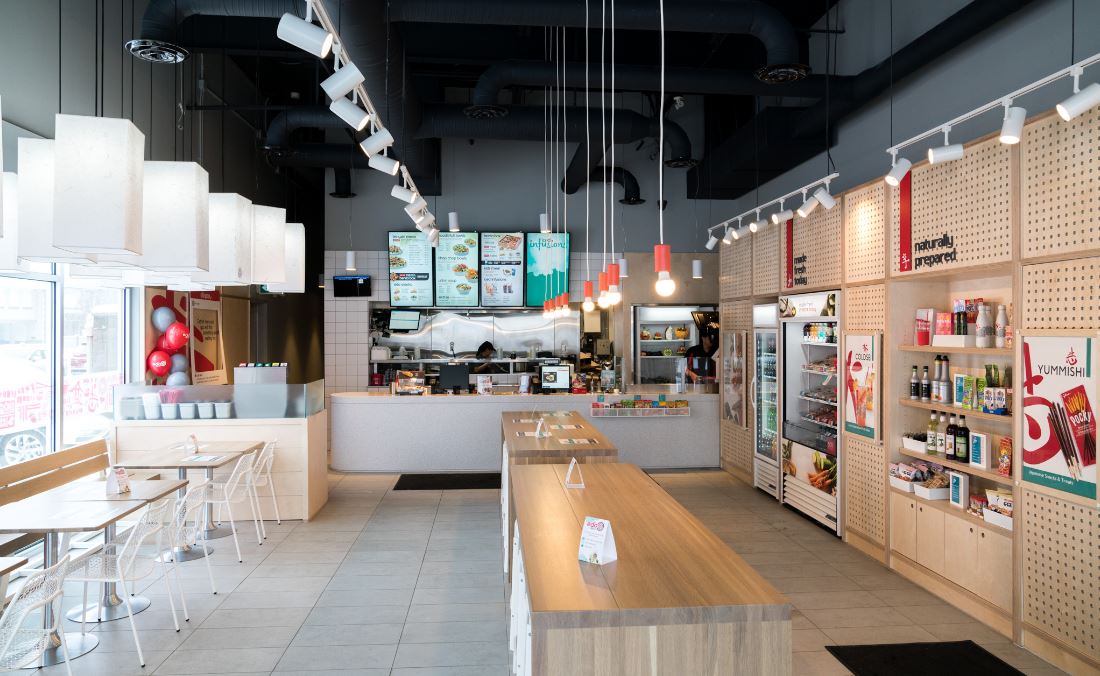 Edo Japan, an Alberta-based QSR specializing in Japanese traditional Teppanyaki-style cooking, has unveiled Edo Fresh Take, a new design concept and branding meant to cater and appeal to millennial consumers.
The Fresh Take layout is designed to make the grill (a key element of Japanese Teppanyaki-style cooking) more visible and to include a grab-and-go market wall featuring sushi, salads and imported Japanese-inspired snacks and treats, which is intended for younger customers who are looking for speed and convenience. It also "creates a complete new revenue stream within the same store footprint so it allows franchise partners to maximize sales potential," David Minnett, the brand's president and CEO, told strategy in an email.
In addition, Fresh Take offers new on-trend menu options, including Poke bowls and Sushi burritos, to appeal to millennial palettes. Overall, the space is meant to feel brighter and more contemporary. A community table allows for social dining, in addition to window seating that come with charging stations.
Edo has also undergone a brand refresh, which includes a new logo, packaging and in-store graphics that emphasize its use of natural ingredients. Stores (beyond the Fresh Take concept) have added teal to the already-existing grey and red colour scheme and included Japanese-like graphic symbols the brand refers to as "Edoji's." Minnett says the additions are intended to inject a "sense of fun" into the restaurant.
The Fresh Take concept launched in Edmonton in January, with another store opening in Calgary this month. In December, Edo added two other stores in Edmonton that are "hybrid designs" featuring elements of the Fresh Take concept.
"We want to start roll-out of the new concept in our own territory where our brand is strong, gain feedback and then tweak as necessary as we expand into new markets," says Minnett. He says "the time was ripe for Edo to evolve," considering how many new competitors, including Asian ones, have entered the market.
The new store format was developed with millennials in mind, as they are the group "driving QSR sales," according to Minnett. The millennial segment currently represents "a healthy percentage of our business," he says, "but dining trends have changed so we need to evolve to meet these needs."
For 18 months, Edo worked with Toronto-based form Sklar Wilton and Associates on market research in Alberta, B.C. and Ontario. The brand then tested four potential restaurant designs created by McKinley Burkart, an architect design firm in Calgary, and worked with Calgary's Ball Retail on creative and strategy.
Moving forward, new Edo Japan stores will open with the Fresh Take layout and in-store offerings, while existing franchise locations will begin to incorporate key elements of the new design and branding.
Edo plans to accelerate its expansion efforts in B.C. and enter the Ontario market with its street-store format within the next year. It will also be expanding into Manitoba with the opening of its first Winnipeg location this month, with plans for six additional stores to follow. It currently has no international expansion plans.