OLG explores the 'joy' of Lotto 6/49
A new platform for the game shifts the focus to the emotions that come at every stage of purchasing a ticket.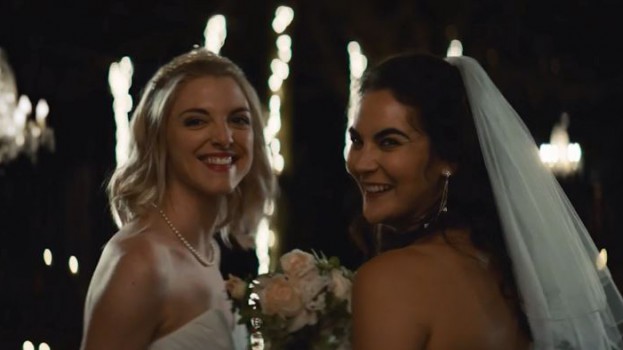 Earlier this year, the Ontario Lottery and Gaming Corporation (OLG) launched a new platform for Lotto 6/49, hoping to strengthen the brand and further differentiate it from Lotto Max.

The brand's "Get That 6/49 Feeling" platform launched on Jan. 1 with a TV and digital spot, the first work to come out of its partnership with FCB Canada. Phase two of the platform will begin rolling out in April.

The platform's first 30-second spot called "Joy for All" is not unlike some of the brand's previous ads celebrating that "winning moment." It runs through a series of joyful occasions – weddings and holidays, game-winning celebrations, big life milestones – comparing them with the feelings experienced playing and winning Lotto 6/49. Future campaign spots, however, will seek to put greater emphasis on other stages of the ticket-purchase cycle.

Part of the brand's strategy comes from the game's mechanics, says Jodie Bates, the OLG's director of integrated marketing communications, in that every draw includes a guaranteed $1 million prize. The brand is looking to raise awareness of that fact, because its research has shown a lot of participants feel they never win (odds of winning the guaranteed $1 million prize vary depending on the draw, but the odds of winning 6/49 in Ontario range from 1 in 8.3 for a free play to 1 in 13,983,816 for the biggest payout, with 1 in 6.6 odds for winning any prize).

As part of the platform, Bates says OLG is developing other spots that explore the different "pillars" of joy, such as the excitement and hope that comes with buying a ticket, the anticipation of learning whether you won and the act of sharing the winnings with others.

Despite taking different approaches to their campaigns, OLG research showed that Lotto 6/49 and Lotto Max were similar to consumers in that they offered them an opportunity to "dream," says Bates. So Lotto 6/49 has set out to create "ownable territory" for the brand that avoids Lotto Max's dream-driven positioning.

Although Bates says the OLG's role is not to change cultural attitudes, it has purposely tried to reflect Canadian values. "Joy for All" includes a shot of a same-sex couple getting married, for example, and ends by reminding viewers that "joy doesn't care about our differences." The idea was to promote the "democratization of joy," says Bates, making joy – and by extension, Lotto 6/49 – accessible to everyone.

The brand is targeting those nearing retirement, who generally (but not necessarily) fall in the 45-plus consumer segment. It's one of the ways in which OLG seeks to differentiate the brand with Lotto Max, which tends to skew a little younger.

"Joy for All" includes a 15-second web version of the main spot as well as radio, print, and digital banners that are running across Ontario, Atlantic Canada and Western Canada. The OLG is still finalizing its social media strategy, but Bates sees an opportunity to leverage the concept of its upcoming "sharing" spot on social media.

PHD is handling media planning and buying.