Canopy, Tokyo Smoke to open stores in Manitoba
As the start date for cannabis sales faces a delay, Manitoba picks four companies to operate the province's retail locations.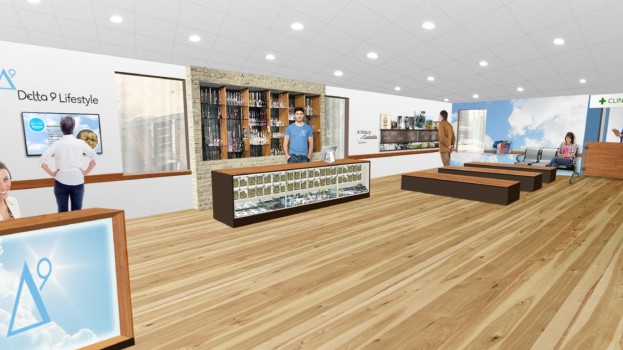 An artist rendition of Delta 9′s location in Winnipeg, set to be its first cannabis store in a joint operation with Canopy Growth.

The Government of Manitoba has selected the entities that will be operating recreational cannabis retail locations in the province, giving two of Canada's most recognizable cannabis brands a sign that they'll be able to run their own stores once it is legalized.

Manitoba is one of a handful of provinces that will allow private retailers to sell recreational cannabis (in addition to British Columbia, Alberta, Saskatchewan and Newfoundland and Labrador). Manitoba's RFP process was different in that it specifically stated it would be selecting "up to four" applicants to provide the full retail networks, suggesting the provinces look to more of a retail chain model, as opposed to independently run or mom-and-pop stores.

The first retailer in Manitoba will be a joint operation between Manitoba producer Delta 9 and Canopy Growth, currently the country's largest licensed producer. Delta 9 and Canopy Growth have previously worked together through an agreement that saw Delta 9 products distributed through Canopy's Tweed Main Street online platform. Delta 9 currently operates a resource centre and clinic in Winnipeg, and the company says that will be its first recreational retail location.

In December, Canopy Growth announced it would be applying to operate four retail cannabis locations in Newfoundland under its Tweed brand as part of an agreement to supply cannabis to the province. Canopy also has agreements to supply cannabis to retailers in New Brunswick, Quebec and Prince Edward Island, where stores will be operated by the government.

The second retailer will be Tokyo Smoke. The company, which built its lifestyle brand on selling premium cannabis accessories and fashion, merged with licensed producer Doja two weeks ago to create a new company, Hiku Brands. Touting itself as the first cannabis company with vertically integrated operations, the merged entity can now bring legal cannabis products to the previously weed-less Tokyo Smoke retail locations in areas where private retail is permitted, like Manitoba.

Hiku worked with BOBHQ – a distributor of head shop and counterculture products – on its pitch.

The third organization to be selected is National Access Cannabis, a group that helps Canadians get safe and responsible access to cannabis and provides them with ongoing care and education.

The final organization is 10552763 Canada Corporation. The numbered corp is a new entity comprised of Ontario licenced producer Avana Corp, cannabis extraction company MediPharm Labs and Native Roots Dispensary in Colorado, along with Manitoba's Fisher River Cree Nation and Ontario's Chippewas of the Thames First Nations.

First Nations have been vocal about their desire to be part of Canada's recreational cannabis business, as it would get them in on the ground floor of an emerging industry and provide an economic boom to communities in the form of jobs and new income streams. In addition to the participation of two First Nations in the new numbered corporation, National Access Cannabis has also signed agreements in recent months with a number of First Nations in Manitoba to establish a retail network on First Nations land.

The number of stores each company will operate has yet to be determined, and the selections are still subject to conditions such as completing necessary agreements and providing required documentation to the Manitoba government. While Tokyo Smoke's announcement of its selection said it had been granted the ability to also conduct online retail sales in Manitoba, announcements from the other companies and the government did not specify if that was the case for all of the selected applicants.

The news out of Manitoba comes as the date for when retailers will begin selling recreational cannabis appears to have been delayed. Leaders in the Senate Thursday reached an agreement yesterday to hold their vote on Bill C-45 on June 7. Following news of the vote date being set, Health Minister Ginette Petitpas Taylor reiterated her statement that provincial and territorial governments will need eight to 12 weeks after the bill receives royal assent to prepare for recreational cannabis sales. This means that recreational cannabis will not be sold until early August at the earliest, and possibly up to a month later.