Oikos' Simon and Daniela meet again
Two new campaigns support the Greek yogurt brand's longstanding "dream snack" positioning.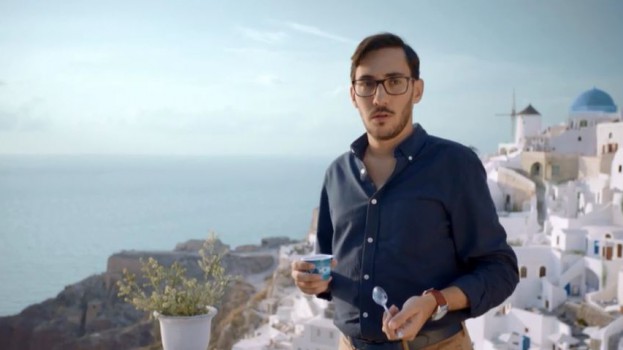 Oikos continues to build off its "dream snack" positioning in two campaigns, including one in support of Oikos Mix, a new product offering.
Oikos Mix comes in four flavours and is the brand's first individual-sized product with on-pack ingredients that can be mixed into the yogurt. Its launch is being supported with a 15-second TV spot created by Taxi and featuring Simon, the central figure of Oikos' longstanding "Dream" platform. While the ad is less dream-driven than some past executions, it ends with the tagline "The dream you'll flip over."
The campaign launched on Feb. 12 and is expected to be in-market until mid-March.
Oikos Mix ingredients are at the centre of the campaign, both in the TV spot and on banner ads created by Mirum. Online media is targeting consumers during key snacking moments of the day, between 7 to 11 am and 3 to 7 pm, and through interstitial ads and video takeovers. The media strategy, overseen by Carat, also includes mobile placements and Spotify sponsored audio sessions, as well as organic and paid social media through Instagram influencer partnerships and Facebook ads.
Fanny Thibault, Oikos brand manager, says the new offering aligns with consumer trends, as many people already regularly add granola and other products to their yogurt. Oikos Mix aims to make that snacking experience more convenient, she says.
In mid-January, Oikos launched a campaign in support of its broader brand portfolio, with creative that includes both Simon and Daniela (another key figure of the "dream" platform) and Quebec comedians Phil Roy and Julie Ringuette. Social media assets for that campaign landed mid-month, with English and French TV commercials airing during the week of Jan. 29.
In the 30-second TV ad, Simon finds himself back on the Greek islands, forever in pursuit of Daniela, his unrequited love. Just as the pair are about to kiss, his spoon scrapes the bottom of his yogurt cup, transporting him back to reality.
In Quebec, Oikos is running humourous, more than minute-long social spots created by agency Carl in which Roy and Ringuette share their personal Greek-inspired dreams. Roy encounters a Minotaur, and Julie searches for the "perfect Greek." The videos have been adapted into 6-second pre-roll ads for YouTube, Facebook and Instagram's Stories feature. The longer formats are appearing on the brand's own media channels.
The "Dream" platform launched in 2015, following a 2014 drop in market share for the brand as a result of rapid growth bringing new competition to the Greek yogurt category. Since then, the platform has paid dividends. Thibault says Oikos gained five points of market share by the end of 2015 and that it continues to grow, having reached its highest market share to date in 2017.
The brand is targeting young professionals through its digital execution and baby boomers through the TV campaign. Thibault says the younger demo has an "appetite for new products and experiences," but that it resembles boomers in its busy, on-the-go lifestyle. That, paired with increased focus on healthy eating and wellbeing, has given the brand the opportunity to leverage its position as a nutritious snacking choice.
The campaigns' PR efforts are being handled by DanoneWave Canada and National Public Relations. Geometry worked on POS advertising.