CASSIES Gold: Health Ministry tackles fear of failure
BBDO lets Ontario's smokers know it's okay to hit some roadblocks on the path to quitting.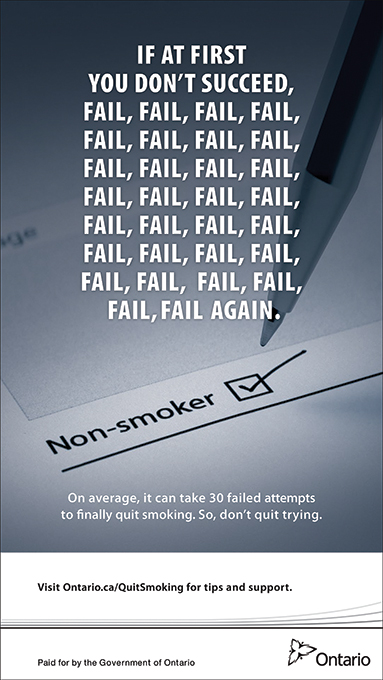 This article appears in the March 2018 issue of strategy.
+Gold: Pivotal Insight
+ Silver: Strategic Thinking
Although smoking has declined, there are still 2.1 million regular and occasional smokers in Ontario. Tobacco remains the leading cause of preventable disease and premature death among Ontarians, costing the province an estimated $2.2 billion in direct healthcare expenses and an additional $5.3 billion in indirect costs.
While four-in-five regular smokers aged 18 to 34 think about quitting "a lot" or "sometimes," only a small percentage make an honest attempt to quit. With most smoking cessation messaging aimed at an older population, an opportunity existed to speak to Ontario's 600,000 younger smokers.
Quitting smoking is one of the hardest things smokers will ever do. BMJ Open analyzed data from participants in the Ontario Tobacco Survey and followed up with them every six months for three years. It found that participants had attempted to quit smoking an average of 29.6 times.
As smokers become afraid to fail again, they're less and less likely to succeed. Whereas previously they saw it as an embarrassing weakness, failure was repositioned as a necessary and positive action.
The Ontario Ministry of Health and Long-Term Care's idea was to create a completely different message for the anti-smoking category: embrace failure.
Launching in February 2017, with a $500,000-plus budget, "Be a Failure", by agency BBDO Canada, focused on reaching 18- to 34-year-old smokers on their smartphones, where they commonly browse the internet while smoking. Creative spots encouraged people to fail, no matter how many times, until they can finally quit for good.
To drive reach and frequency, online video and mobile-optimized digital display focused on media attractive to this audience. Messaging on Facebook and Twitter was reinforced with influencers. Static and digital outdoor posters placed on campuses and in resto-bars further increased reach.
Results
Eighty one percent of smokers (aged 18 to 34) who saw the campaign said the advertising made them think seriously about trying to quit smoking. Sixty nine percent of those who saw the campaign were more likely to seek out information on quitting compared to 38% of those who did not.
The campaign generated a 14-point lift in intention to quit among regular smokers and a sixth of the 600,000 younger smokers indicated serious interest in exploring quitting resources. If even 5% of those smokers follow through, this would equate to potential long-term savings of $35 million per year, more than 50-times the annual cost of the campaign. People looking for more information on quitting smoking via the ministry's website increased by 16%.