Centrum gives you a little encouragement
How a "Tiny Trainer" is helping the vitamin brand get a message of convenience to a younger audience.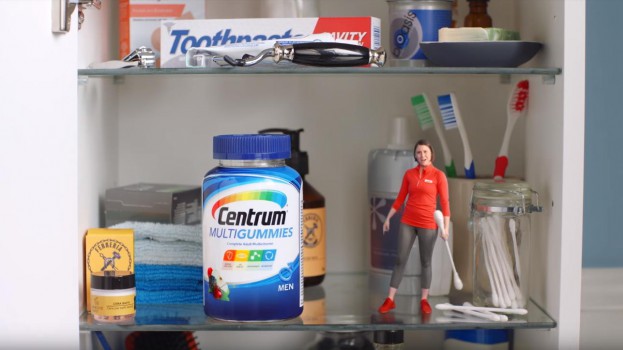 Pfizer is hoping to show younger Canadians how they can make healthy choices even if they lead busy lives with a new campaign for Centrum Multigummies.

In a series of videos for the gummy daily vitamin, a tiny personal trainer finds her way into pantry shelves, desk drawers and medicine cabinets. After taking seconds to chew on a Centrum Multigummy, the trainer shows the same enthusiastic support and encouragement they'd get after going to the gym, demonstrating that the product is a much easier – but still positive – step towards a healthier life.

The videos are running on Facebook and YouTube, with the broader campaign featuring targeted digital banners. Juniper Park\TBWA led the creative.

Rebecca Singer, marketing director at Pfizer Consumer Healthcare Canada, says previous marketing efforts around the Multigummies have been highly functional, driving awareness for the product and introducing the "gummy" format to the broader Centrum product line. The "Tiny Trainer" campaign is speaking more directly to a consumer insight about Canadian consumers: namely, how the hectic schedules and responsibilities of everyday life can make it seem like it's too difficult to stick to a healthy routine.

"Consumers want to take steps towards living a healthier life, but many of the steps they know they need to take can be challenging in our busy, hectic lives," Singer says. "We loved the idea of leveraging a personal trainer to create the juxtaposition between the ease of taking a Centrum Multigummy versus the challenge of finding time to work out and being encouraged by a personal trainer."

There is currently a TV spot for the broader Centrum brand in market that uses a similar workout theme to position its product portfolio as an easy way to live a healthier life. However, Singer says the TV spot does not have the same look, feel or quirky tone as the "Tiny Trainer" videos.

"Tiny Trainer was created for the digital world, where we wanted to be a little quirkier, but also have the ability to target different consumers more specifically," she says, an ability that is important given that the videos break out individual SKUs with a different target than other Centrum products. The Multigummies are targeted to a slightly younger customer (25- to 40-years-old) than the traditional market for multivitamins (40 and older), which is also why Centrum looked for a humourous tone that would resonate better with that audience, Singer says.