ASICS opens first Canadian flagship
The new Toronto store brings the apparel brand's performance and lifestyle products under one roof.
Looking to showcase the breadth of its product offering, athletic fashion and footwear brand ASICS has opened its first Canadian flagship store in Toronto's downtown core.
The store is part of a global retail concept being implemented across North America. The March 9 opening follows the December unveiling of a new location in New York.
Richard Sullivan, president of ASICS Canada, says performance has been a pillar of the brand since its founding in 1949 and the new store reflects that positioning, while also putting more focus on innovation.
"What we're looking to do is find the right fit to speak to the consumer and tell the consumer about our brand," he says, adding that having its own store presence will help support the expansion of the ASICS brand in Canada.
ASICS will also be redesigning its website later this year in an effort to reach more consumers and enhance the online customer experience, says Sullivan.
The Toronto flagship brings together the brand's performance and lifestyle products under one roof. The main level of the two-storey space is dedicated to the ASICS group of products: shoes and apparel designed for athletes and sports enthusiasts. Merchandise is separated into women's apparel on the left (which includes "The New Strong" collection debuted in the U.S. during Q4), men's apparel on the right, a special "lite-show" reflective gear collection closer to the centre and core performance sports products at to the back of the store.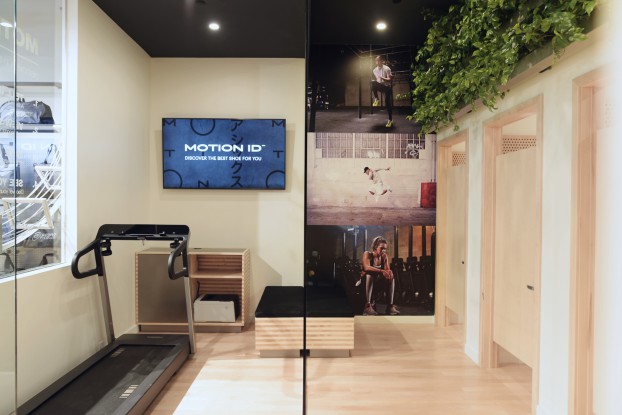 The "Motion ID" area is a mainstay of the location and a feature found across of all ASICS' flagship stores. Using sensors, a Motion ID treadmill creates a computer-generated gait analysis, capturing a customer's natural posture and style of movement when running. The analysis helps the brand recommend different pairs of shoes and is intended primarily for serious runners, such as marathoners, although all customers are welcome to use it.
The upstairs portion of the store showcases ASICS Tiger, a lifestyle brand that draws on the company's heritage. ASICS Tiger products would have been considered performance a few decades ago, but are now meant to be worn more casually, says Sullivan. He says the decision to separate the offerings was a deliberate attempt to differentiate between two different consumer targets.
The roll out of the retail concept follows the launch of the brand's "I Move Me" campaign in Canada last year, its first major marketing push in 20 years.