'Guilt-free' ice cream race heats up
CoolWay ice cream has relaunched with new flavours and a proposition that pits it against other healthier dessert options.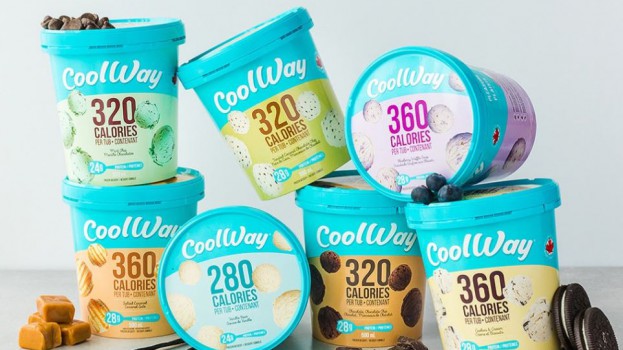 CoolWay ice cream has rebranded and launched new flavours nationally a week after Halo Top's Canadian debut, further fueling competition in the "guilt-free" ice cream category

A total of seven CoolWay flavours – including salted caramel, toasted coconut chocolate chip and blueberry waffle crisp – became available on March 5 across more than 1,600 retail locations, including Walmart, Metro, FreshCo, Longo's, CO-OP, Wholefoods, Sobeys, IGA and Safeway.

Touting less than 360 calories per pint, 28 grams of protein and 50% less sugar than regular ice creams, CoolWay allows customers to indulge without feeling too much guilt. The new packaging maintains the brand's blue colour scheme but places calorie counts front and centre, a strategy leveraged by other healthier ice cream brands like Halo Top and Unilever-owned Breyers Delights.

Benjamin Outmezguine, a co-founder of CoolWay, says his company was aware of a few brands in the U.S. that were gaining traction by capitalizing on broader food trends around healthier eating. He says timing of the relaunch was critical, as consumers were likely to associate the first brand they saw as being the leader in what is a relatively new category in Canada (Halo Top began hitting shelves in Canada on Feb. 28).

The CoolWay brand, formerly known as CoolWhey, contained 60 grams of whey protein per pint when it launched back in 2014. Whey protein, a by-product of cow's milk that supports muscle development, naturally aligned more with the workout crowd, who use it as a supplement.

Outmezguine says the brand has now taken a new direction in response to consumer trends, placing more emphasis on its products' lower-than-average calorie count. The new positioning is meant to help the brand reach a larger consumer base.

"We found that consumers were turned off by the whole protein aspect," he says. "People tend to think that whey-based products taste bad, because of protein bars and protein shakes. That's why we decided to rebrand as CoolWay, to give a more mainstream and approachable name to our consumers."

Moving away from whey also opens to door for CoolWay to launch more vegan and dairy-free options, according to Outmezguine. Before the relaunch, it counted four flavours in its portfolio (including a lactose-free option that was exclusive to Quebec, the only province that would stock the product).

Following the relaunch, four to seven SKUs will be available in stores across Canada.

Halo Top made a big splash when it landed in Canada, bringing with it the hype of being the top-selling ice cream pint in the U.S. last year. But Outmezguine believes CoolWay has built significant brand equity over the last four years and that consumers will appreciate that the product is produced domestically.

The company is currently developing a marketing campaign with Ogilvy and is working with retailers on in-store programs. BPR is handling PR efforts.