The Body Shop's grassroots approach to pet activism
The cosmetics company is leaning on pet influencers to bring an end to animal testing in Canada.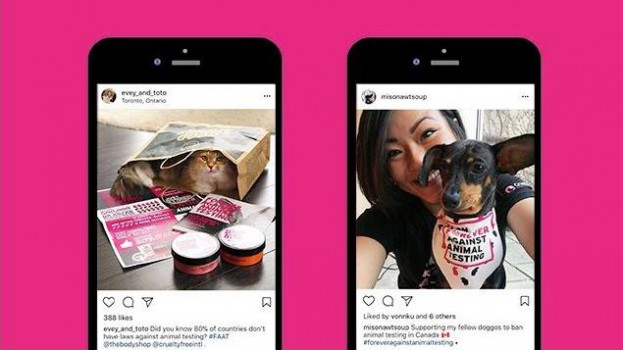 The Body Shop Canada is making grassroots activism a big part of its continued push to end animal-tested cosmetics worldwide.
Now two years into its global "Forever Against Animal Testing" CSR campaign, the company's Canadian arm is focusing its marketing efforts on getting consumers to act on the issue. Whereas last year's effort focused on raising awareness of animal testing in the industry, this year's has a more tangible objective: to change the law in Canada.
On Monday, the company launched a three-week, in-store piece of the Canadian campaign aimed at enabling its customers to become activists. The effort is focused on featuring the brand's cruelty-free products, while collecting signatures from customers and letting them know how they can get involved, such as contacting their local MP.
Next week, it will kick off the social and digital component of the campaign, featuring ten "celebrity pets" and "pet influencers" – some of them pets of celebrities – such as Elvis Pawsley (a Toronto-based corgi with some 34,000 followers on Instagram), Nacho Cilantro (television personality Jillian Harris' boxer) and Rusty (tech personality Amber Mac's rescue dog).
The digital campaign is focused on turning the pets into "pet activists" who give a voice to the cause, "speaking out and saying why they want animal testing banned in Canada," says Jayme Jenkins, VP of marketing at The Body Shop Canada.
Whereas cosmetics animal testing is banned in other international markets, that isn't the case in Canada. So the brand is putting increased focused on lobbying the government and changing the law as a way of engaging its customer base.
"This lobbying and activism spirit is really the Canadian piece of the campaign that we've embraced," says Jenkins.
The Body Shop Canada recently hired public affairs firm Campbell Strategies to lobby the federal government. It is also teaching its own staff how to do their own government outreach.
The cruelty-free cause is one that has large-scale appeal among consumers. The company cites one study showing that around 80% of Canadian consumers support the cause.
"The mass is behind it," says Jenkins. "It's really just a matter of creating some urgency and raising the profile of the issue today."
Of all the countries participating in the campaign, Canada has so far generated the most signatures at more than 455,000. Globally, the company hopes to gather and present 8 million signatures to the United Nations General Assembly in the fall.