Clover Leaf creates an 'All Natural' campaign story
The tuna brand hopes to spread awareness of its reformulated products and the fact that canned fish isn't necessarily less healthy.
A girl is grocery shopping with her mom. The store clerk drops a can of tuna from the stack on his cart. It peaks the curiosity of the girl who watches as it rolls throughout the store. It eventually stops in the produce section. She examines the product and concludes that the fresh aisle is precisely where the fish belongs and puts it next to the apples.
With the creative support of agency Tag, this is the "All Natural" campaign story that Clover Leaf is hoping will spread awareness of its reformulated seafood products and increase sales by 5% over time.
The $420 million seafood category is competitive, with 80% of households purchasing canned fish. Over half of that is tuna, and 20% of that tuna is flavoured, with the rest of the balance in salmon and other SKUs. Clover Leaf has a 47% share of the canned seafood category.
For Clover Leaf, a challenge is the perception that centre store has unhealthy products. Also, the canned seafood space is busy with a small amount of shelf space. "So it can be challenging for new products to stand out," says Lorna Buchanan, VP of marketing at Clover Leaf. Also, the congestion makes it difficult for customers to shop, so people tend to grab their go-to brand and continue shopping without noticing any new products.
To address this, Buchanan says that Clover Leaf is making the products easier to use, with packaging that appeals to a younger demographic who don't eat much seafood (they do, however, tend to consume more as they age and become concerned with health).
Ideas Suite (a research facility for focus groups) and Craft Public Relations worked with Clover Leaf on consumer research prior to the campaign. It showed that, with a long shelf life, consumers believe that canned seafood must have preservatives for food safety.
"But it's the canning process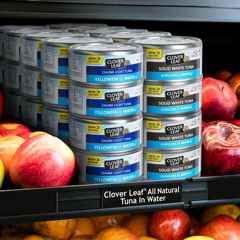 that ensures the food safety and no additives or preservatives are needed," says Buchanan.
Along with an awareness campaign, the brand tweaked the formula for its fish products to satisfy consumers' desire for clean ingredients. It sourced all natural sea salt, removed additives and changed the broth from soya oil to sunflower oil. It changed the packaging, replacing the can liners with BPA-free liners and achieving GMO status on all of its SKUs. The brand deals with several different suppliers, so it took around 18 months to achieve its all natural claim.
The campaign launched earlier this month, with media will be in market until the middle of June. The brand is using large shelf banners in-store for an extended time to attract consumers. The sizes vary by store, but some are 30 ft. long and 18 inches wide. There will be palette displays with POS that feed into the all-natural elements and the brand has top can stickers to visibly communicate the natural qualities of the products. There will also be coupons in-store on shelf blades, as well as coupons with Smartsource.ca.
The target for the campaign is mothers or those who do the household shopping and are looking for quick and healthy meal solutions for their families, says Ian Schwey, VP, executive creative director at Tag.