Who's in the running for a Shopper Innovation Award?
The jury has picked the finalists for this year's awards program, with the winners announced on April 30.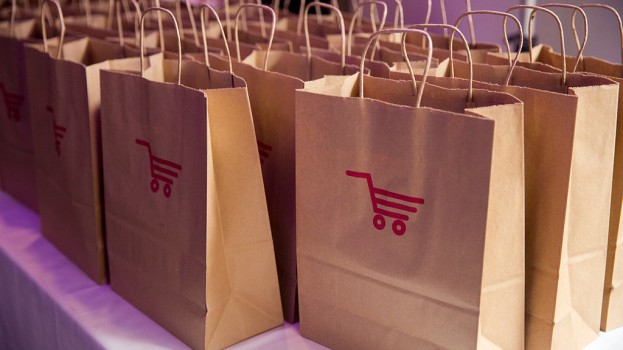 The best plans and partnerships in retail and beyond have been selected and judged by the 2018 Shopper Innovation Awards jury (led by chairs Nancy Marcus of Kruger Products and Nancy Modrcin of Metro), with the below finalists standing the chance to nab an SIA trophy on April 30.
The gala will take place at the end of the first day of the Shopper Marketing Forum, strategy's two-day conference showcasing the myriad ways brands and retailers are leveraging new shopper tools and tactics. The second annual Retail Innovator of the Year (see last year's winner Sephora) will also be announced at the awards ceremony that evening.
The Forum and Awards will take place at Toronto's Arcadian Court from April 30 to May 1. The list below includes the groundbreaking programs that made it to the judges room for the final live deliberation. Read here for more on the 2018 jury.
| | | |
| --- | --- | --- |
| Campaign | Client | Agency |
| Budweiser Stage | Labatt Breweries of Canada/Budweiser | Anomaly |
| Snap it with Pepsi | PepsiCo Beverages | BBDO |
| Break Bread Smash Stigma | Casey House | Bensimon Byrne/OneMethod/Narrative |
| Haunted Door | WD-40 | BIMM |
| Brita and Me to WE | Brita Canada | Brita Canada |
| Nike NBA Jersey Launch | Nike | Central Station |
| Give A Toast | Candian Tire Jumpstart | Community Agency |
| Smugglaroos | General Mills Canada | Cossette |
| Is It Still A Big Mac? | McDonald's Canada | Cossette |
| No Shame | Easy. | Cossette |
| SickKids VS | SickKids | Cossette |
| Things You Can't Unthink | Banff Centre For Arts & Creativity | Cossette |
| SickKids VS – MomStrong | SickKids | Cossette |
| SickKids VS – DadStrong | SickKids | Cossette |
| SickKids VS – 100 Today | SickKids | Cossette |
| Self-Esteem Project | Celebrate Confidence | Unilever / Dove | Geometry Global |
| Boston Pizza Team HQ | Boston Pizza | ICF Olson |
| Transforming Empathy into Empowerment | Invictus Games Toronto 2016 | Invictus Games Toronto 2017 |
| Exposing Innocence | Innocence Canada | KBS Canada |
| Cook This Page | IKEA | Leo Burnett |
| Cleaner of Your Dreams | Procter & Gamble/Mr.Clean | Leo Burnett |
| Milk. Solid stuff. | Les Producteurs de lait du Québec | Lg2 |
| Brand Relaunch | Boréale | Lg2 |
| A Room with Many Views | Québec Tourism Alliance | Lg2 |
| Olympic packaging | Ultima Foods | Lg2 |
| On Demand Ice Cream Chatbot | Unilever/Ben & Jerry's | Mindshare Canada |
| Latte Launch | Tim Hortons | Ogilvy Canada |
| No Baby Unhugged | Kimberly-Clark/Huggies | Ogilvy Canada |
| Real Beauty Filter | Unilever/Dove | Ogilvy Canada |
| Stroke-able Billboards | Kimberly-Clark/Cottonelle | Ogilvy Canada/Mindshare Canada |
| Doritos Roses – Walmart ASP | PepsiCo Foods Canada | PepsiCo Foods Canada |
| Grab-a-gift | FGL Sports/Sports Experts | Rethink |
| Scrolling Marathon | FGL Sports/Sports Experts | Rethink |
| Desert Roulette | WestJet | Rethink |
| The Thermal Discount | FGL Sports (Sports Experts) | Rethink |
| Root Brewery | A&W | Rethink |
| Green Screen | Scotts Canada | Rethink |
| Stranger's Voice | Branch Out Neurological Foundation | Rethink |
| Ward+Robes | Starlight Children's Foundation | Rethink |
| Ahlan Bear | COSTI Immigrant Services | Rethink |
| Canada 150 Nice | Roots | Roots |
| Northern Light | Roots | Roots |
| CZ Bank | China Zheshang Bank | Shikatani Lacroix Design |
| The Magical CF Love Lights | Cadillac Fairview Sherway Gardens | Traffik |
| Boombox | McDonald's Canada | Tribal Worldwide |
| Hyper-Targeted Pollen Alerts | Reactine | UM |
| Common Ground | Harley-Davidson | Zulu Alpha Kilo |
| A Balloon For Ben | Cineplex Entertainment | Zulu Alpha Kilo |