Kijiji shakes up its creative approach
In a new campaign, the classified ads site shows how it can make life's transitions more exciting.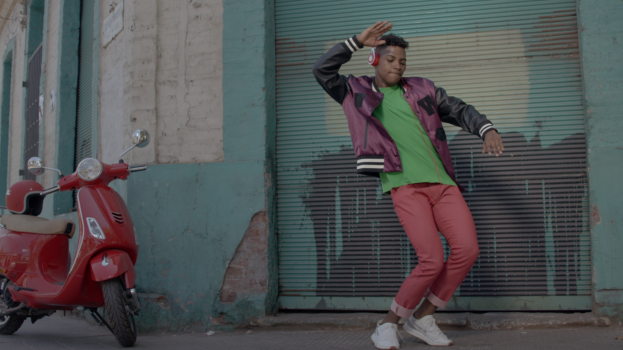 As the country's largest classified ads site, Kijiji wants to be there for consumers as their lives change and their material needs evolve.

That's the message behind its latest advertising campaign, "Shake It Up," which launched on Monday with wide-ranging creative meant to complement a diversified media mix.

The creative, developed by CloudRaker, positions the brand as being relevant to all kinds of life situations and as being a helpful resource for when those situations begin to change, says Marc-André Hade, head of consumer marketing at Kijiji Canada.

The campaign includes a series of 30-second TV spots, with digital (on Facebook, Instagram, YouTube, SnapChat and programmatic) and out-of-home rolling out in early April. CloudRaker also handled media on the campaign, and the creative is tailored to each platform.

The overriding theme is that Kijiji can help consumers transition through different stages of life, whether its buying baby accessories for a growing family or trading in a car for something new once the kids move out.

Last year's "Shake On It" campaign was aimed at showcasing the breadth of the offering on Kijiji and "the emotional, functional benefits" of using the site, says Hade. The new campaign consciously builds off that effort by incorporating the same 80s hit song (The Cars' "Shake It Up") and shots of people shaking hands, but is more about using the platform to make life's transitions feel more exciting and fun.

The creative covers a vast array of products, broadly divided into the "buy and sell" and auto categories. Late last year, Kijiij started listing new 2018 models from dealers, so it decided to make them a prominent part of this year's campaign. The OOH executions, for instance, focuses exclusively on autos with media buys in high traffic areas in the Toronto, Montreal, Edmonton and Calgary.

Hade says most users access Kijiji on mobile, so it developed unique creative in 6-second bumper ad formats to maximize user engagement and interest. The ads run through a series of items in quick succession, a presentation that was designed with the mobile environment in mind.

To develop greater brand salience, Hade says it's important for Kijiji to talk about the range of products available through the site, from electronics to furniture to musical instruments. "This is what's unique about Kijiji," he says. "There's a lot of selection. For us, it's important to communicate that to Canadians."

Veritas is handling PR for the campaign.