CDSS makes 'Anything But Sorry' more explicit
The organization uses creative ad placements for its "bad word" messaging in phase two of its current campaign.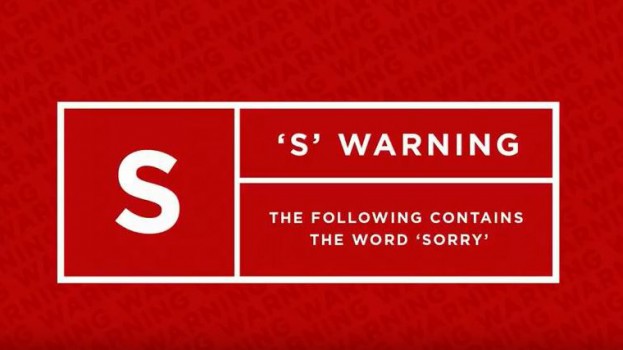 The Canadian Down Syndrome Society has launched phase two of "Anything But Sorry," with new creative and a media strategy that reinforces the campaign's original messaging: when it comes to Down syndrome, no word is worse than "sorry."

The main spot, created once again by FCB Canada, features the cast from the campaign's first wave, explaining why "sorry" is an inappropriate thing to say to parents of a Down syndrome baby. But this time, with their "S-Warning" theme, the assets riff off the "explicit content" advisory typically used for profanity-laced music or films.

The campaign was launched to mark World Down Syndrome Day on March 21, one of two big moments of the year in terms of messaging opportunities for the CDSS. As with "Down Syndrome Answers" and phase one of "Anything But Sorry," the organization usually also does a marketing push around Canadian Down Syndrome Week, from Nov. 1 to 7.

For this phase, CDSS worked with FCB on new creative, says Ed Casagrande, vice-chair of the oranization's board, but it also wanted to make "creative use of media to reinforce this messaging and put this message in content channels where people are digesting somewhat of a similar message."

Campaign assets are running against a range of digital content containing the word "sorry," including advisory-style pre-roll content within popular YouTube videos (including music videos, movie trailers, and vlogger posts). CDSS is also running Google display banners on "sorry"-related sites (such as Dictionary.com's definition of "sorry," the IMDB page of TV series I'm Sorry and condolence cards on 123 Greetings.com). To drive greater awareness, the videos are also running on Snapchat and Facebook, on TV until June 12, as well as on CTV on Demand.

The assets direct viewers to an "Anything But Sorry" website.

In addition, CDSS partnered with Spotify to create a branded playlist of "inappropriate" songs containing the word "sorry," including top hits like Justin Bieber's "Sorry" and Demi Lovato's "Sorry Not Sorry."

Eryn LeMesurier, director of strategic planning at FCB Canada, says the agency used the campaign's "creative hook" – that sorry is a bad word in the context of down syndrome – and used it to "think about media environments where you're hearing this word that has a completely different meaning, and then intercepting that and showing that in certain instances, particularly when you're welcoming a child with down syndrome, that it's actually a bad word."

Casagrande says the Down syndrome community's response to the broader "Anything But Sorry" campaign has been very positive, with some parents using it as an educational tool. Looking ahead, he says CDSS will continue working at building relationships with medical professionals, who are often the first and most frequent point of contact for new parents. The current campaign website also includes content specifically aimed at the medical community.