Testicular Cancer Canada gets ballsy
The organization takes a more disruptive approach to stand out during Testicular Cancer Awareness month.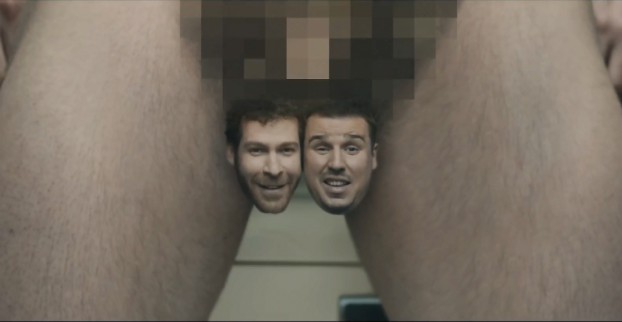 Testicular Cancer Canada is taking things a little literal in a new campaign to motivate men to get over stigma and listen to their balls.
In a series of videos created by agency Giants & Gentlemen, a person's testicles are personified as a pair of talking heads, discussing the ups and downs of living as a pair of balls while getting a much-need shower or "haircut." The discussion inevitably turns to the fact that the person who owns the testicles doesn't "listen" to them, before ending on the tagline "Your balls have a lot to say" as way to encourage others to regularly check for lumps or irregularities.
The campaign also features strategic media placement for certain videos, based on their content. For example, one is running through donated ad space from PornHub and features the testicles lamenting the fact that no one touched the guy's testicles in the video they just watched, missing an opportunity to potentially find a lump. Another video, being displayed on video boards in men's washrooms, features the testicles commenting on the viewer's privates before telling them how often they should also be checking themselves.
The campaign launched last week ahead of Testicular Cancer Awareness month in April, but assets will be in market until the end of May.
The goal with "#LetsTalkBalls" is to break down stigma and embarrassment around discussing and checking for testicular cancer, especially among 15- to 29-year-olds, for whom the disease is the most preventable and often treatable.
Vincent Marchildon-White, interim managing director for Testicular Cancer Canada, says it has always been "a natural fit" for an organization that talks about testicles to use humour as a way to stand out. Past campaigns have included strangers telling their most embarrassing stories to having agency staff getting waxed to using guinea pigs as stand-ins during a tutorial video on how to check for lumps.
But Marchildon-White says that pushing into a more provocative area was an opportunity to be even more disruptive, something that is especially important during Testicular Cancer Awareness month when the organization looks to get the attention of potential donors.
"We want to get the most bang for our buck, so to speak," says Marchildon-White. "We had these successful campaigns in the past and they've always used the comedic side. But Giants & Gentlemen brought us a concept that was literally pretty ballsy and convinced us it was something they felt strongly about and would be effective. That created an opportunity this year to get more disruptive and just say yes to something a bit more unconventional."