Check it Out: The 'pros' of drinking chocolate milk
Amateur athletes can be a bit like their professional namesakes, according to new ads for the Producteurs de lait du Quebec.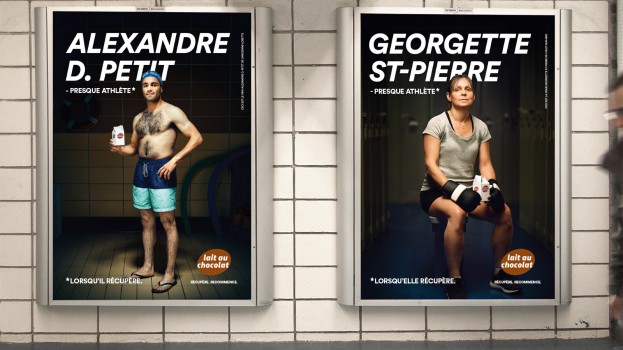 Les producteurs de lait du Québec has launched a campaign that casts everyday consumers of chocolate milk as professional athletes – sort of.
The body representing Quebec's milk producers worked with Lg2 to select people whose names are close to those of professional athletes, presenting them in the creative as real sports heroes when they drink chocolate milk as part of their post-workout routines.
The spots humorously point out all the ways in which the people in them are not professionals – a woman named Georgette St-Pierre, for instance, whose name resembles that of mixed martial artist Georges St-Pierre, is unlikely to compete for a world or regional or even municipal boxing title. But St-Pierre and the other amateur athletes resemble their professional counterparts a little bit morewhen they choose to drink chocolate milk.
The campaign includes the TV spots, digital banners and print, including a placement in French publication La Presse. Additional content will be rolling out on social media throughout the year.
In November, tech company HP used a similar approach when it commissioned ordinary people to reproduce the artwork of famous artists with whom they shared a last name.