The Quick Fire: Fluevog's long walk to Amsterdam
After less than a year in the CEO's chair, Adrian Fluevog is taking the Canadian shoe brand back across the Atlantic.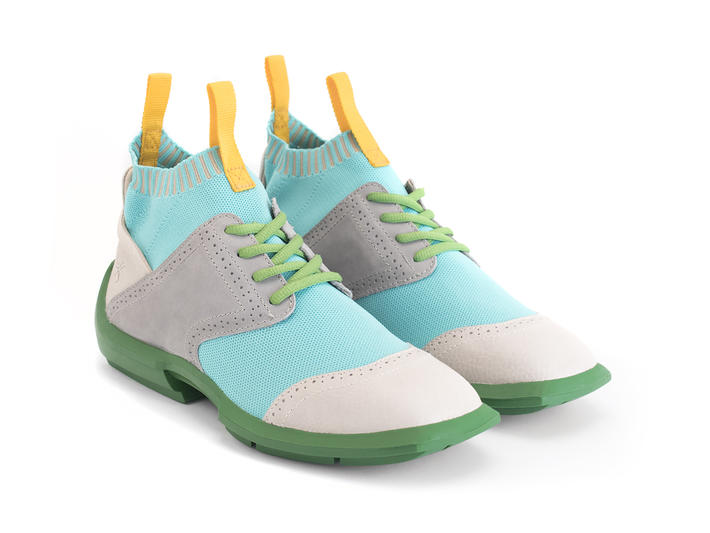 Adrian Fluevog has been in his namesake company's CEO chair less than a year, but he's taking the Canadian brand known for its "unique, crazy shoes" to Amsterdam to kick off a wave of expansion. Physical retail still delivers the majority of sales for the brand, with each location (Amsterdam's will be the 25th store) serving as the starting point for a brand-building experience.
"At the end of the day, we're a product-driven company, but I don't think it comes down to just the product," Fluevog told strategy. "It's the whole package. It's the experience when you buy a pair of shoes and, more importantly, when you wear a pair of shoes. It should make you smile."
Physical retail expansion has been a priority since Fluevog took over as CEO from his father last June. The company's growth has come with mixed results before (for instance, contraction in the U.S. market at the turn of the century was followed by renewed American growth a few years later), but it seems Fluevog is keeping a firm hand on the wheel as the brand puts its soles on the ground in Europe.
You're days away from opening John Fluevog Shoes' first retail store in Europe. How did you come to chose Amsterdam to lead the international expansion?
It's our first step outside North America physically. It's a big deal. We targeted a few places over there – the U.K. and German markets – and Amsterdam checked off the most boxes for us. Everyone speaks English there, so we don't have to change our marketing around. There are tax benefits, and they're an ecommerce hub for Europe.
So will a Fluevog store in Amsterdam look drastically different than one in Toronto?
When we make a store, we work with the space first. We see what natural attributes each has. We have two locations in Toronto and they're quite different-looking stores (see below)… It's a bit of an art project.
Fluevog had expanded into Europe before through wholesale channels, but then dialed back in the 90s. What are you doing differently this time to avoid that path?
This time, it's our stores, our distribution point. With wholesale, it's very uncertain. Sales can go up or down, and you're not in control of anything. We now have complete control of the product we carry, the price point, the marketing and look of the store. We're doing it vertically this time around.
Maintaining that kind of control is why Fluevog stepped away from Amazon two years ago, correct?
Yeah, we just didn't feel special there. We were just another brand there. It felt like a discount store to be honest. You've gotta do what works for your brand, and we've had great success doing things ourselves.
Many retail brands seem to be investing in big players like Amazon and Walmart – both as online media partners and to drive sales at scale. Does going it alone limit growth as everyone else flocks to the big guys?
Meh. I think we'll be a bit limited. But the way we've approached the market is limiting. We don't want to be on everyone's feet. We don't want to be everywhere. But that being said, the world's a pretty big place. That's why we're heading across the ocean.