A new education program preps execs for disruption
Ivey Business School and Isobar team up to teach design thinking for the C-suite.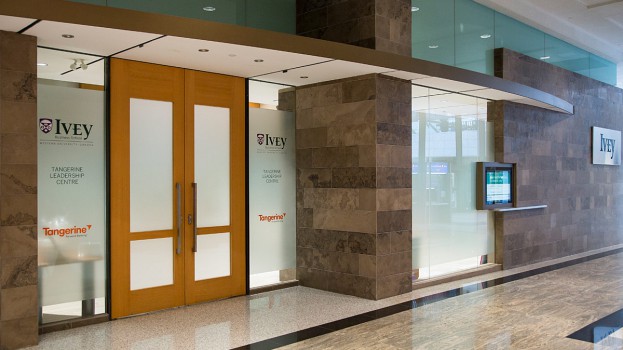 Western University's Ivey Business School has partnered with digital agency Isobar Canada on a new executive education program to help give business leaders tools to address disruption, improve customer experience and drive innovation.
The Design Thinking program teaches just that; "design thinking" is a creative method that uses constant experimentation, rapid ideation and prototyping to uncover previously unseen consumer needs, solutions for those needs and new market opportunities.
"Business leaders are tasked more and more with improving the customer experience," said Mark Healy, Ivey's director of executive education. "Initiating this kind of change momentum is more important than ever." He adds that drawing on Isobar's "real-world expertise" will help it take a hands-on approach to learning, instead of focusing on the theoretical side of design thinking.
In addition to studying relevant case studies, participants in the two-day program will be grouped into teams. Each team will identify a technology that can be transformed into a market opportunity and start prototyping solutions based on the ideation process taught in class.
The program is designed for executives and senior leaders, especially those in cross-functional roles who are tasked with innovating new products and services, team leads tasked with or concerned about product or service delivery and senior leaders seeking to bridge technical and business gaps.
The next two day session is scheduled to begin on April 5, and will be held at the Ivey Tangerine Leadership Centre in Toronto's Financial District (pictured above).