Targeting tactics with a digital bent
Using new platforms helped these brands meet younger consumers where they already live.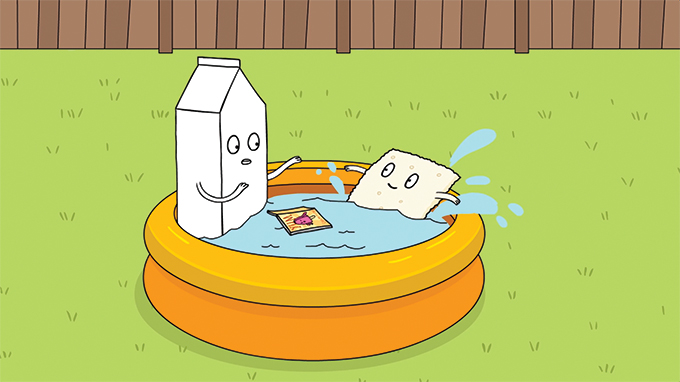 This is part of a deep dive into the trends, tech and insights that powered the winning campaigns from the 2018 AToMiC Awards. Keep your eyes peeled for more  this week, and be sure to check out the list of winners from this year's awards.
This story appears in the April 2018 issue of strategy.
Aloof and fickle, teens are a tough nut to crack. Brands are seemingly on tenterhooks with this cynical group, wary not to bore them with advertising that, well, feels like advertising. To get through the walls adolescents put up, marketers must align themselves with their interests and go where they go.
There are two things to know about teens: their "chill" time is mostly spent consuming content on the web, and they're essentially glued to their phones. Two AToMiC winners each tackled one of these insights, creating hyper-targeted programs that got young adults to tune into their messaging.
First, Milk West and DDB padded the insight around teens' content-consuming ways with further research that showed they enjoy milk the most when paired with their favourite food. The team also found that the school-going group likes to snack in front of the computer, where they watch shows on YouTube, typically in the afternoon after classes break. That window gave rise to the "Snack Time" web-series, a noticeably unbranded cartoon that revolved around a milk carton-shaped guy named Carlton (get it?) and a cast of snacks that go with milk (like cookies and cake).
The milk association created the YouTube-housed show with zero traditional product placement, nor any calls-to-action. It was complimented with a Tumblr page for shareable GIFS and memes, while ads for the show included pre-roll (skipable, of course), in-game mobile creative and native content on BuzzFeed. Milk West also went to the social platform of choice for Gen Zers – Snapchat – and placed geo-filters in high schools, rec centres and cinemas. With 26 episodes released in 2017, the brand has seen 40,000 teens subscribe to its channel and counted 21 million episode views. The real clincher: milk sales are up 20%.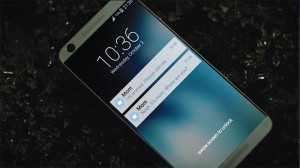 Research also shows that, if you want to talk to teens, a good place to start is on their phone. That's where Drug Free Kids Canada went with "The Call That Comes After" by FCB/Six. The organization needed to convince teens that the danger of driving high is real. So it launched a digital experience that sent unexpected text messages to teens to coincide with the plot points in a story being told through video.
First, a parent sent a video to their kid. That video showed teens casually smoking marijuana, getting into a car, driving high, and then experiencing a horrific car crash. The final shot revealed frantic text messages from a parent not knowing where their child had gone. At the exact same time, the teen watching the spot received identical messages from their mom or dad. The idea was to create a real-time connection to the unthinkable trauma of a car accident, and get the teen viewer to pay attention to the issue.
Data collection was key to making this happen. When parents signed up for the custom video, they provided the teen's name, email address, and phone number – all isolated data that helped create an overwhelming emotional experience. In the campaign's first 60 days, site traffic to Drug Free Kids Canada increased almost 2,000%.
The slightly older millennial audience can be just as hard-nosed towards advertising as teens. And in today's world of oversharing, almost anything can be openly discussed by this group when it comes to sex. Except how to clean up before and after, nobody wants to talk about that dirty deed – unless you're Cottonelle and you're not afraid to get graphic.
The brand worked with Ogilvy over the summer last year to create the explicit "Strokeable Billboard" for its FreshCare Cleansing Cloths, a solution for a better clean after "getting busy." The board was built around two classic sexting emojis: the eggplant and the pussy cat. It was placed in an LGBT-popular restaurant during Toronto's Pride event, displaying the emojis and encouraging curious pedestrians to "work them over" in exchange for FreshCare samples. Playing with the kitten's nose just right turned her eyes into hearts. Stroking the eggplant caused the green top to pop right off. The experience was then mimicked on mobile, through dating app Grindr, where coupons were delivered to those who engaged in the 17-second interaction.
The many views of Québec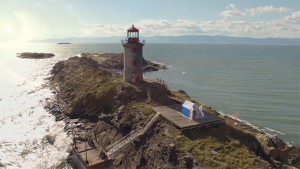 "A Room with Many Views" was a Tourisme Québec campaign where analytics and creativity worked in tandem, as each piece of content was informed by search trends and online behaviour.
Québec has a lot to offer. The idea was to show exactly what. Speaking to potential tourists from the U.S., France, China and Ontario, the tourism board worked with Lg2 to show the province's rich diversity through a hyper-targeted content campaign.
The centrepiece was a social documentary about an American tourist couple who agreed to be the protagonists in a travel adventure. In videos, they were shown visiting the four corners of Québec by air and by land while inside a mobile room. The portable bedroom was transported on a trailer and hung from a chopper, and each morning, the couple woke up somewhere new.
The room's itinerary was determined by what people were searching online, and the campaign also included a retargeting strategy where content was created and delivered according to audience interests. The province also invited travellers to share their favourite locations.
To go or not to go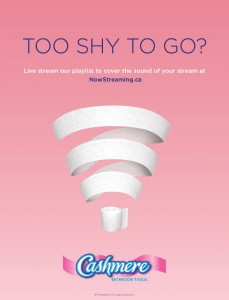 Even the most socially active and ambitious females have a bladder that gets shy. It happens when they sit in a quiet bathroom stall, and someone is sitting quietly next to them just two feet away. The body freezes and, suddenly, they can't go.

"Shy bladder" happens to two million Canadians, according to Cashmere, a bathroom tissue brand that decided to help deflect people's anxiety by installing a device in bathrooms that live-streamed music to cover up any tinkle sounds.

The brand was very specific in where these boards would live, working with Wavemaker to place them where high-power business women work and dine, in office towers and urban, upscale restaurants.

The team, which also included John St, even created a "Now Streaming" playlist on Spotify for anyone on the go (so to speak). And after only eight weeks in market, the installation was used more than 2.17 million times, which equated to 38,500 Cashmere branded experiences each day.