Utility in small packaging
Brands made parchment paper, cardboard boxes and drink trays work a bit harder for extra engagement.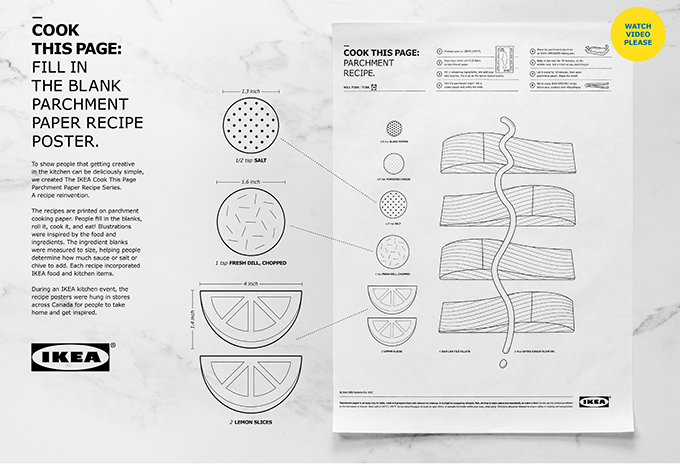 This is part of a deep dive into the trends, tech and insights that powered the winning campaigns from the 2018 AToMiC Awards. Keep your eyes peeled for more  this week, and be sure to check out the list of winners from this year's awards.
This story appears in the April 2018 issue of strategy.
Going beyond the dissemination of brand platforms to create something wonderfully utilitarian – that's the type of marketing that gets an AToMiC award. And in IKEA's case, the Grand Prix. The retailer's "Cook This Page" parchment paper, by Leo Burnett, snagged one of two top awards given out this year (see p. 22 for the Public Service GP), plus a trio of Golds and a Bronze, for making cooking as easy as 1-2-3.
The "fill-in-the-blanks" page gave new meaning to fusion cuisine. The idea was to make cooking both fun and painless for those who find it less so. And what's easier than rolling, baking and eating a meal from a sheet of parchment paper?The retailer's made-to-measure cookbook was made up of four recipes, from baked salmon to meatballs and spaghetti, with ingredients illustrated as blank spots where a user could place the right amount of chives, salt or fish, for example.
For anyone looking to break the cycle of their regular meal plan, "Cook This Page" took the intimidation out of trying something new. And not with just any ingredients, but with IKEA products that could be found in its refrigerators and shelves – getting shoppers to consider the Swedish retailer as a source of kitchen inspiration and try its food items (and cooking utensils, too).
During a nationwide kitchen event inside 18 different stores, 12,500 of the oven-ready cookbooks made their way into people's homes. While it took no time for people to snatch a cookbook of their own, the creation of the page was a long and taxing process, with the team spending months searching (even beyond Canada's borders) for a printer that met government and legal approvals for ink-safe paper, and a minuscule budget to make it all happen. The campaign went on to win myriad awards across local and global stages in 2017.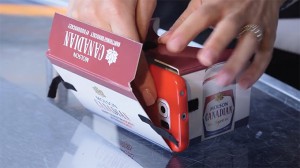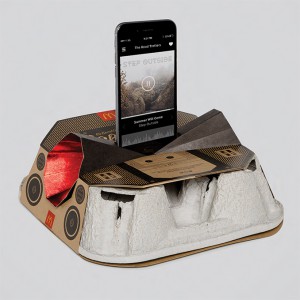 From the centre of the kitchen to the centre of the ice, Molson Canadian's "Virtual Front Row Seat" put hockey fans right at the heart of the game. Just as IKEA made cooking more accessible, Molson made watching live hockey games more attainable for those who could not afford to purchase a front-row seat at an arena.
With an aggressive demand for tickets, most people can't attend a live game, let alone sit in the front row. To bring that experience to them – even as they sit at home or while on-the-go – the brand and Wavemaker repurposed beer packaging to create a cardboard VR device. Anyone who purchased a six-pack of Molson could transform the case into a viewer, insert their smartphone, and watch hockey games from a virtual front row without having to shell out hundreds of dollars.
The team worked with the hockey league and Sportsnet to identify games that featured Canadian NHL teams, which were then live-streamed via multiple cameras stationed in the front row of those games.
Traditional pre-game promotional items like t-shirts and beer koozies are a dime-a-dozen: the brand went beyond traditional marketing tactics to create something more useful, giving fans a unique visceral experience that then led to a 10% increase in purchase intent. On average, people spent about five minutes at a time with their makeshift viewer, and a brand lift study showed an 80% lift in ad recall.
While beer packaging was being retrofitted to augment a personal experience, McDonald's was tinkering with its own disposable drink trays to amp up communal fun. The brand and DDB worked alongside the University of Waterloo and design firm Stacklab to ensure it was at the centre of Canadians' summertime rituals, creating a "Boombox," which was essentially a tray-turned-speaker that could be used at social events.
The teams worked together to make design tweaks to the tray (which is already inherently social – you don't need one for a single drink) until the optimal sound quality was achieved. With only $5,000 to promote the product, which was given to beachgoers on a day in July (along with free McFlurries), the campaign went beyond the shores of Lake Ontario. It was picked up by news sites, from Mashable to HypeBeast, as well as popular influencers like Unbox Therapy. Media outlet Mobile Syrup said: "Once in a while, you come upon a commemorative marketing ploy that truly changes the game. McDonald's Boombox is one such accessory."
A product that speaks for itself
and persuasive when it comes to the consequences (and stigma) of drinking and driving. Arrive Alive didn't want to fall into the trap of being overly moralistic, so it created a physical mnemonic that would speak for itself.
On St. Patrick's Day, when over-drinking is celebrated, Rethink helped put the effects of impaired driving into the hands of drinkers. The "Crash Coasters," were constructed from car parts collected after an accident and placed in bars for people to rest their drinks.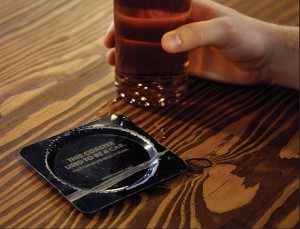 The crumpled, scratched and torn coasters were simple in execution and in its message, with copy lacking a call-to-action, simply stating: "This coaster used to be a car. That car never made it home."

The strategy was to put Arrive Alive's message in front of drinkers just as they ordered their first drink – not before, when the message would be forgotten, or much later, when they may be too inebriated.

Over the March 2017 weekend, the coasters, racked up four million free media impressions online. The organization's spokesperson was asked to conduct dozens of TV, radio and online interviews, which helped drive 600% more traffic to the Arrive Alive website. Requests for the coaster were made by more than 50 cities worldwide, from Germany to Israel.