Big (biometric) data
Facial recognition, eye tracking and infrared cameras gave these ads a much, much deeper connection to consumers.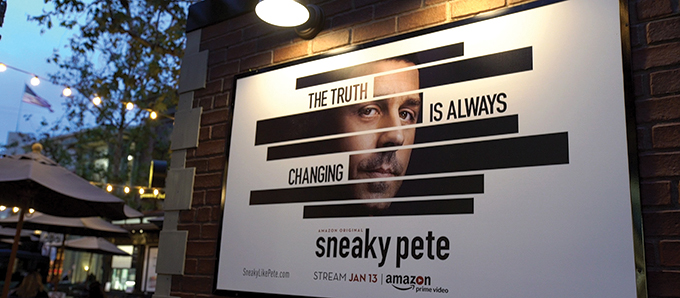 This is part of a deep dive into the trends, tech and insights that powered the winning campaigns from the 2018 AToMiC Awards. Keep your eyes peeled for more this week, and be sure to check out the list of winners from this year's awards.
This story appears in the April 2018 issue of strategy.
So you decided to take the four flights of stairs? Well done. Did you know your temperature would be tracked by a brand-in-hiding and then rewarded with discounts? If so, then you were joined by hundreds of enthusiastic commuters in Montreal's steepest Metro stations (seriously, it's four stories and almost 200 steps deep) last year when Sports Experts set up a thermal imaging station to measure hot bodies.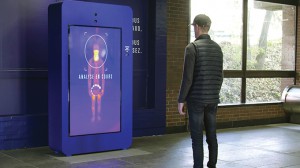 Essentially, when a person reached the top of the subway stairs, an infrared camera (which was radiation-sensitive and used a heat-analyzing algorithm, if we want to get technical) measured body temperature changes and then rewarded discounts that matched (pictured, left). So, a 13% temperature measure translated to a 13% savings at Sports Experts. The discounts were printed right from the booth, and went as deep as 78%.
The "Thermal Discount" stunt, by Rethink, continued for eight hours, encouraging casual and aspiring athletes to sweat for sweet deals. Some initially took the escalator and changed course (taking the stairs again), while others did push-ups and extra burpees to raise their temperature. Even police officers and Metro employees joined in. The stunt was filmed and placed online, where it achieved a half a million views and more than 10,000 comments and shares.
And Sports Experts wasn't the only brand engaging in (arguably creepy) tactics that use technology to track biometric data or intercept bodily functions. Facial recognition, heart rate sensors, eye tracking, voice modifiers, you name the computer application and there's an AToMiC winner that's tried it.
Amazon Studios' "Sneaky Like Pete" installation (seen above) is one of the more complex cases, where facial reactions, heart rate, perspiration, and skin temperatures were tracked for marketing purposes. The brand worked with Thinkingbox, Initiative and Rapport to create the OOH lie detector booth for its show about a con artist, Sneaky Pete. What better way to translate the show's premise than by testing people's abilities to lie like its main character?
The booth was set up inside a shopping centre and analyzed people's responses to questions. Each participant, who took on the role of the show's anti-hero, was given a score based on their confidence, persuasion and control. Taking this even further, the team extended the experience online with a website that tested people's abilities. In all, 25,000 fans interacted with the mall booth, and the campaign tracked more than 300,000 digital impressions.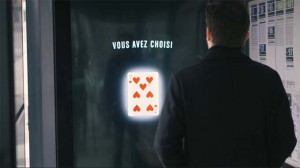 Facial and eye tracking technologies were also employed by the Festival de Magie de Québec (Québec City Magic Festival) in a billboard that claimed to "read minds."
The festival of magicians, which has its own school of magic, naturally decided to wow people with a magic trick. Working with Lg2 a few weeks before the event, it created a transit shelter that displayed several cards (the classic card guessing trick). The board detected a person's eyes to determine which card the person had chosen after tracking where their eyes stopped.
Not surprisingly, the "Mind Reading Billboard" was a media favourite, with news spreading and the festival gaining visitors as a result. More than 5,000 people filled the venue and the website tracked a record 25,000 unique visitors.
Empathy born from experience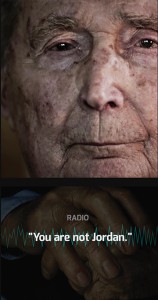 When the Branch Out Neurological Foundation wanted to raise awareness of the devastating memory loss that comes with Alzheimers, it decided to use voice modulation technology to get people to experience the ill-effects first-hand.
"Stranger's Voice" made people sound unrecognizable to show what the disease does to the mind. It intercepted calls that were made by phone cards given to people on Family Day. The calls (made anywhere in the world for free) were routed through a hacked server, which modulated a person's voice so that the receiver could not recognize the caller. After the call ended, they were sent a pre-programmed text that explained what had just happened. Some of those confused conversations were then used in PSA radio ads (with the callers' permission).
Another twist in the campaign came when the organization, which worked with Rethink on the idea and execution, intercepted and modulated the voices of podcasters. Hosts became unrecognizable to listeners, but were enlightened at the end when the host's voice was unmodulated and they explained the stunt, with a call for people to visit Branch Out's site and donate to the cause.
The team's tampering worked. During the campaign, website traffic grew 1,100% and first-time donors rose 56%, while donations jumped 432%. It was recorded as one of the most successful campaigns in the organization's history.
I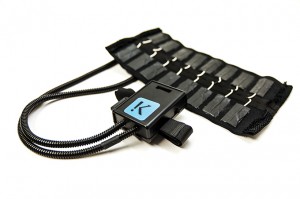 n a similar experiment to get people to feel empathy through experience, Klick Health and Klick Labs created the "SymPulse Tele-Empathy" device.
Patients with Parkinson's experience tremors as a result of the neurological disease. Most of the already-existing technologies that mimic tremors tend to focus on the mechanics of the symptom and fail to replicate the root cause of the tremor.

Instead of recreating the vibrations, Klick looked at the data and found that muscle contraction and spasms were the actual culprits. The team recorded the muscle activity of a person with Parkinson's and digitized it to be used in an arm band. The device was then worn by non-patients so that they could experience the tremors first-hand.

Next up, Klick is looking to create a live transmission of data, so that a non-patient can experience the muscle contractions and tremors as they are being experienced by a Parkinson's patient in real-time.