Mobilizing Canadians
Using digital platforms to bring communities together for worthy causes.

This is part of a deep dive into the trends, tech and insights that powered the winning campaigns from the 2018 AToMiC Awards. Keep your eyes peeled for more this week and be sure to check out the list of winners from this year's awards.
This story appears in the April 2018 issue of strategy.
"Alone we can do so little; together we can do so much." Activist Helen Keller's words ring true among some of the best cause work to come out AToMiC, from collaborations among Canadians and artists, to mobilizing people to talk about serious issues.

Teamwork is the cornerstone of The CanadaSound Project, a program by agency Cleansheet Communications that encourages everyone to pitch in. Launched in early 2017, it began as an effort to capture Canada's soundscape: from the roaring thunderstorms in Cobourg to the vibrations of train tracks.
Sound is a powerful trigger for memories, and so with the idea to capture life in Canada, the shop created the digital platform for people to submit sounds and sentiments about what they love about the country. From there, the sounds are archived and added to the CanadaSoundbank, where musicians can become collaborators. The agency partnered with the JUNO Awards, CBC Music, SOCAN and Heritage Canada to curate the sounds and make them available to artists.
In addition to online submissions, the team also approached Canadians on streets with an experiential booth that invited them to record memories of their favourite sounds. Only one year in and the sound bank has seen close to 100 artists join. Visits to the site average almost 140,000 per week.
While Cleansheet created a movement that captured the heart and soul of Canada, No Fixed Address helped mobilize the public to fight an issue of global proportions.
The Canadian Centre for Child Protection's "Don't Get Sextorted, Send a Naked Mole Rat" campaign (pictured, above) urged Canadians to create awareness of sextortion, where young boys are lured by men pretending to be girls, asking them to send nude footage and then blackmailing them for money or sexual favours.
The best way to prevent sextortion is to be aware that it's happening. But kids don't want to talk about sex with their folks, and they've become desensitised to messages about online safety.
Bearing an unfortunate resemblance to male genitalia, the long, veiny and fleshy mole rat was used as a humorous way to get teens to listen to the Canadian Centre for Child Protection's message. The team kicked the program off with a Sextortion-Ed video with a cheery school teacher asking boys to send naked mole rats instead of nudes. Memes, GIFs, stickers and a custom keyboard were offered to spread the word, while a digital toolkit was used in classrooms by teachers and downloaded online.
The campaign had countries outside of Canada creating their own local version of a mole rat: from naked wombats in Australia to kiwis in New Zealand. And the program did what it set out to do, driving social conversation around sextortion 649%.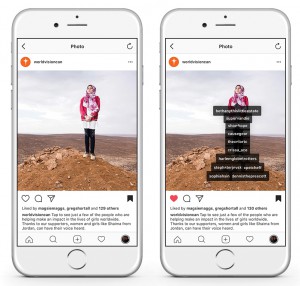 Finally, World Vision brought global issues closer to home in a more personalized way by recognizing those who support the organization on social media.

While "clicktivism" may not have immediate impact, it does lead to a tangible difference, eventually. World Vision wanted to show the causes it supports, as well as the impact of social engagement.

KBS began by selecting images from World Vision, all of which depicted human rights adversities. To spread the message of the type of work the org does, and thank its social followers, the team tagged people on Instagram and configured the name tags to create a new image on top of the photograph. Each depicted the solution to a problem, with the idea that each follower is a piece of the puzzle.

"Tags with Impact" generated a surge in social engagement, with three out of four posts out-performing the monthly average for engagement.