Tim Hortons' reputation falls sharply in annual survey
Google once again topped the list of most admired companies, while Samsung got the largest bump in the rankings.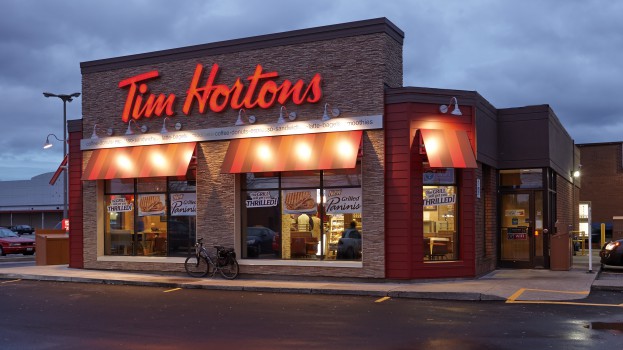 Tim Hortons' reputation among Canadian consumers took a hit over the last year, dropping from number four to number 50 in research firm Leger's annual ranking of the most admired companies.
"Tim Hortons, a perennial top five brand that we've previously believed impervious to issue, has fallen mightily in the court of public opinion," wrote Rick Murray, managing partner and chief digital strategist at National Public Relations, which partnered with Leger on the survey.
Over the last year, the reputation of the Restaurant Brands International coffee-and-donut chain has been marred by disputes over the minimum wage in Ontario and disagreements with franchisees over management issues and cost-cutting measures. Last week, the company announced it will invest $700 million dollars over the next four years to renovate most of its Canadian locations, sparking further disagreement with franchisees about who will need to invest the $450,000 into their stores.
Topping the list of the most favourable organizations were Google (for the sixth straight year), followed by Shoppers Drug Mart and Canadian Tire, which also ranked second and third, respectively, last year. The full list of top-ten companies, along with their 2017 rankings, can be found below.
Samsung rebounded significantly over the last twelve months, the survey found, suggesting Canadians are willing to forgive. The electronics company, which dropped in last year's rankings after some of its smartphones were reported to overheat and catch fire, saw the biggest bump in reputation. It jumped from number 24 to number 5 in the overall rankings.
For the first time in the survey's 21-year history, Leger also looked at how companies fared specifically in the eyes of millennials. The cohort ranked the companies slightly differently: the performance of Netflix, Canada Post and Amazon (ranked fifth, sixth and seventh) reveals millennials' "lust for on-demand video streaming and online shopping," according to the report.
The survey assessed a total of 241 companies from 28 business sectors and was conducted between December 2017 and January 2018.
Top ten most admired companies (with 2017 ranking):
1. Google (1)
2. Shoppers Drug Mart (2)
3. Canadian Tire (3)
4. Sony (7)
5. Samsung (24)
6. Microsoft (13)
7. Dollarama (5)
8. Kellogg's (8)
9. Campbell's (9)
10. Kraft (11)
Top ten most admired companies (millennials):
1. Google
2. Shoppers Drug Mart
3. Microsoft
4. Dollarama
5. Netflix
6. Canada Post
7. Amazon.ca
8. Canadian Tire
9. Sony
10. Samsung