M&H: Integrated production solutions
A pioneering production-as-a-service model has found favour with advertisers in today's changing creative landscape.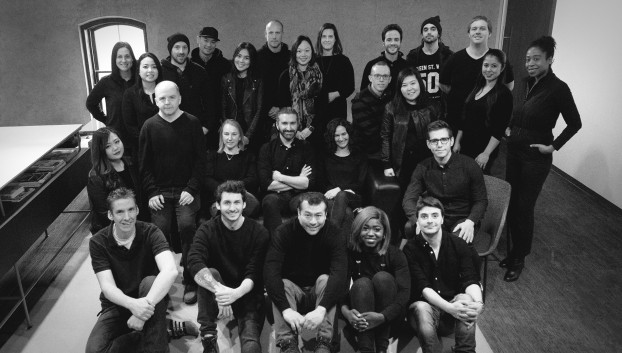 The M&H Toronto team.
Adaptive, integrated, and agile. These qualities, and a strong talent pool, are just a few of the benefits offered by M&H, an all-media creative production powerhouse with a 40-year heritage of high-calibre solutions headquartered in Montreal. The firm is in hyper-growth mode and its Toronto office in the Distillery District will double in size at a new location come this summer to meet demand.
Vahid Tizhouch, general manager in Toronto, says the industry is changing and clients are finding the company's unique business model and cost efficiency it offers quite appealing. "Our model came over 20 years ago when clients used to send their projects to the studio where we would do all the work. The industry has continued to evolve. Clients found they were not optimizing their creative potential and needed to bring experts in to help them." So, M&H built this flexible model providing custom solutions– from a per assignment basis to setting up shop inside clients' offices to complement their in-house talent.
"Both agencies and brands find it attractive to know there's a solution when their existing capabilities are not able to meet all their production needs. They have the option to engage our suite of services at different scales for a higher quality and more efficient output."
The formula works. The Toronto shop opened its doors in late 2015 with a staff of seven. It has since hired Luis Alejandro as manager of marketing and business development, along with a growing staff that has quadrupled and are busy providing end-to-end print and digital production services to agencies and brands throughout North America.
M&H services include a 360-degree gamut of capabilities, including web development, digital experience, 3D illustration, graphic production, design, retouching, animation, art buying, and copy adaptation in various languages. These solutions can seamlessly adapt to clients' existing infrastructures to address their most pressing needs through a single point of contact.
The Montreal headquarters has a staff of over 100 and Tizhouch believes the Toronto shop has the potential to grow as large, if not larger. Because of M&H's typical volume of work and resources, he says the firm's leaner model with its competitive pricing is a great option to meet clients' budget expectations, while maintaining their creative vision.
M&H continues to grow its footprint. It currently operates over 10 studios including its home offices, satellites, and shop-in-shops servicing several clients within North America.
Tizhouch says that M&H has been around long enough to understand the complexities of the advertising industry and the best solutions the shop can deliver. "We hand-select our talent based on cognitive diversity – everything from producers who have worked at traditional advertising agencies or web/digital design shops to brand in-house teams – so they each bring a wide spectrum of complementary knowledge and experience for our clients."
M&H's composition breeds the innovation necessary to grow alongside its clients. Many long-standing relationships have developed, like the one with Sid Lee for over 20 years through transformative collaboration for solutions to shared challenges. For over a decade, M&H has been executing advertising for L'Oreal Canada's marketing campaigns across all of its product divisions.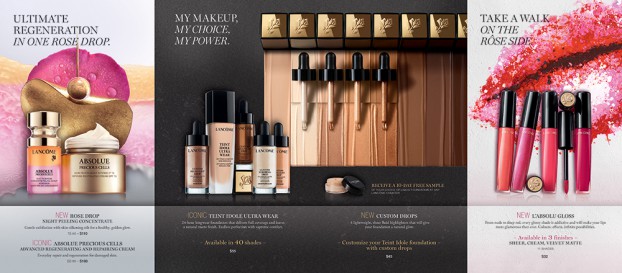 L'Oreal Canada has worked with M&H for over 12 years on creative production for brands like Lancôme, Vichy and Garnier across all its divisions.
Other recent notable work includes a logo design collaboration with KBS for Innocence Canada, where M&H handled all graphic design mechanicals. With Virtue, Vice Media's in-house creative services division, M&H delivered retouched mechanical artwork for Wealthsimple that was adapted for transit, digital boards, wall murals, and mega-posters. The shop has also collaborated with Open. A Creative Company on creative strategy execution for artisanal bread company, Boulart, to build a new WordPress consumer website as well as other trade sales collateral.
M&H worked with OPEN to produce marketing collateral for artisanal bread company, Boulart. This included its website, which won a 2017 Applied Arts Design Award.
M&H collaborated with Virtue, Vice Media's in-house creative agency to produce a campaign for Wealthsimple. The work included retouched mechanical artwork adapted to print and digital OOH channels across Canada.
In partnership with Sid Lee, M&H executed the launch campaign for The North Face's XtraFoamTM Technology in pre-production. Rendered 3D illustrations for the creative focused on the layered technology within the boots. M&H's imagery-creation division, Cam&leon, uses applications like Modo and AfterEffects to create prototype visualizations with a high degree of realism.
Alejandro says there's a real industry paradigm shift happening on all fronts from a cost perspective as well as operationally. Larger agency networks have started to restructure and, in some cases, streamline staffing, in addition to the newer small shops on the scene with strategically agile business models. "We are increasingly working with smaller, independent agencies – typically founded by former legacy firms' executives. They're the driving force behind the current paradigm shift. Advertisers are dipping into more continuous content projects requiring quicker scaling up of integrated production resources."
"It's a great time in the market for us," says Alejandro. "We don't do creative and strategy, so we're the perfect fit for creative teams with production needs at different scales and scopes – from the latest design and post-production techniques to emergent digital capabilities."
CONTACT:
Vahid Tizhouch
General Manager
vtizhouch@mh.ca
Profiles: