Boreal beer shop a conduit for innovation
With its natural elements and local merchandise, the Quebec brewery's first store serves as an extension of the brand.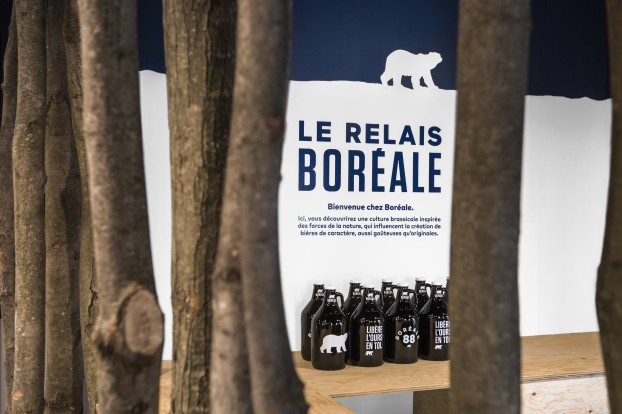 Until recently, beer drinkers in Blainville, Que. didn't have any reason to view Boréale as their local watering hole. Located within an industrial park, the microbrewery had no retail presence and nowhere for brand fans to congregate.
But in December 2017 it soft-opened the Relais Boréale, its first retail shop, giving customers a new way to experience the brand, while using the store as a testing ground for innovation.
The store opening follows a complete overhaul of Boréale's branding and packaging, aimed at appealing to a more craft-oriented consumer. The retail location, which opened officially on March 15 following its Dec. 15 debut, is meant to give customers a sense of local pride, while visually reinforcing the brand's core attributes, says Sébastien Paradis, the company's CEO.
The designed concept was by Lg2, which has led the company's branding work.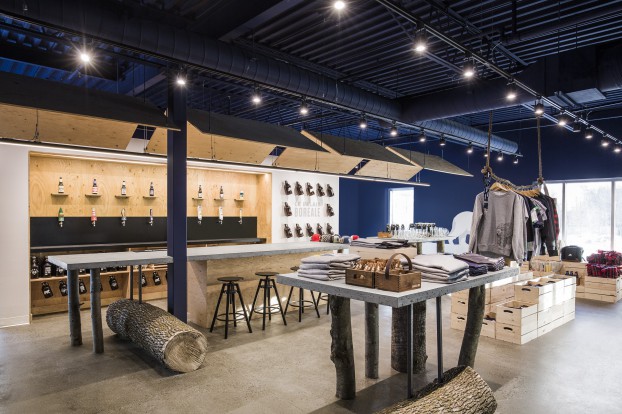 Relais Boréale includes a tasting bar (where customers can taste exclusive brews), a wall with information about the brand's history in Quebec, merchandise (including clothing, glasses and other accessories) and a window into the production area, where guests can learn about the beer-making process.
The space has a "cottage feel," says Paradis, an attempt to reflect Boréale's alignment with adventure and the great outdoors. It also had local artists design some of its merchandise, featuring original takes on the company's logo, in a show of commitment to the local community. That positioning is important, says Paradis, given that the beer is only sold locally in Quebec.
But in addition to driving home Boréale's overall brand positioning, he says the store has opened up a new avenue for innovation and testing. Of its tasting bar's ten draught lines, three are usually reserved for small batches of new products. "For us, it's a sounding board," he says. "Sometimes, we've been surprised."
New to the retail space, Paradis says Boréale used the soft launch as an opportunity to "become better retailers" and to sort out the logistics of running the store. It also used it as a chance to draw the early attention of "beer geeks," who have spread the word and become repeat customers.
Paradis says that while he would like to say the store was part of a "master plan" the company is implementing, it happened rather organically. The success of its brand redesign presented an opportunity to continue telling its story and to innovate, he says.