Children of the Street tackles bystander effect
The social-inspired campaign tackles the issue for the first time to get high school boys to change their behaviour.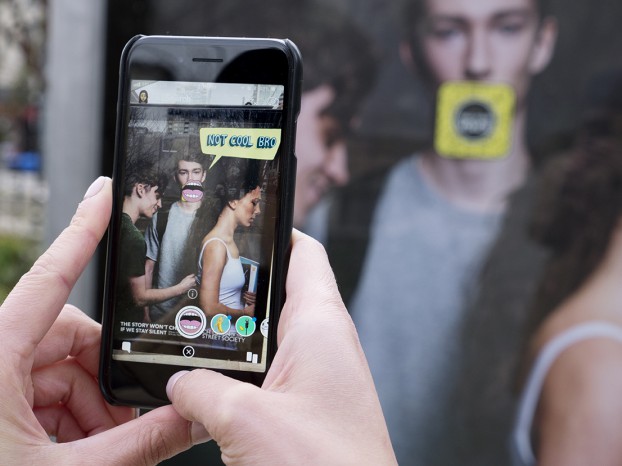 British Columbia non-profit Children of the Street Society has launched a new campaign encouraging youth to speak up when they witness sexual harassment.
The "Change the Story" campaign, created in partnership with Cossette Vancouver, highlights the importance of bystander intervention with a series of interactive posters bearing the tagline,"The story won't change if we stay silent."
It is the fifth campaign the organization has worked on with Cossette Vancouver, and their most interactive campaign to date — use your phone to scan a custom Snapchat code on the campaign poster, and it will generate a photo filter that give you ways to "change the story" and speak out against sexual harassment, as seen above.
The interactive posters are appearing in schools province-wide and at bus shelters in metro Vancouver. The campaign also includes a television PSA running in British Columbia.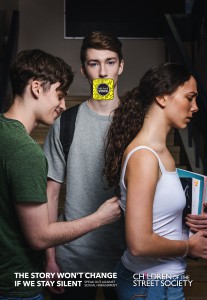 "The whole idea is to address the issue of sexual harassment with young males and to send the message that if you don't say anything, you're saying it's okay," Diane Sowden, executive director of Children of the Street Society, tells strategy.

The organization launches an awareness campaign every March for British Columbia's Stop Sexual Exploitation Awareness Week. Previous campaigns include "Just One Photo," "New Follower," and "Uncertain Terms" that focused on sextortion and online predators. This is the first time, however, that the issue of bystander intervention has been the focus. Sowden says the organization finds itself aligned with the #MeToo movement, which has brought the issue of sexual harassment and violence against women to the forefront of public discourse in recent months.

"We came up with this idea before #MeToo, but it ties in perfectly with the message," says Sowden. "I think that just shows how timely all these conversations are."

Along with reaching youth through posters, Children of the Street Society also provides educational programming around sexual exploitation and human trafficking of children and youth in schools — amounting to approximately 550 workshops per school year that reach about 25,000 young people.

One of their recently added programs, called "Redefining Manhood," specifically tackles the topic of toxic masculinity and "locker room" talk with high school aged boys. The program has reached nearly 3000 students so far.