Aphria launches first recreational brand
Solei is meant to demystify cannabis and show "novice" consumers the different occasions it can complement.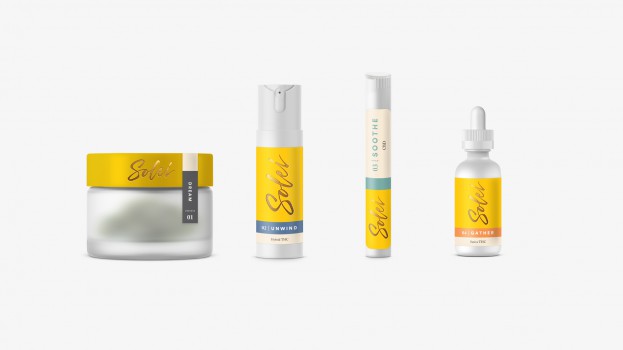 When recreational cannabis is legalized later this year, roughly 17% of Canadians will be trying it for the first time. That means a lot of consumers will be entering the market without a lot of knowledge about the different effects different types of cannabis might have, or which one is right for the kind of experience they are looking to have.

That's an issue licensed cannabis producer Aphria is aiming to solve with the launch of Solei, its first brand for the adult recreational market.

Following legalization, Solei cannabis products will be available in several forms, such as dried flower, oils, oral sprays and prerolls. However, instead of focusing on "strains" and other technical information that might not mean much to less experienced consumers, Solei is instead six different "moods": dream, unwind, soothe, balance, ignite and gather. Each one is positioned as being a potential way to compliment existing occasions, such as relaxing after a long day at work or invigorating a social situation.

Megan McCrae, VP of marketing and communications at Aphria, says Solei is the first of several brands the licensed producer will be introducing for the adult recreational market. She says those future brands might rely more on strains and technical language, and won't utilize the same sort of simple, easy-to-understand approach.

But Solei is targeted at the "novice" cannabis user, or possibly those with a bit of experience but are open to trying new things. As such, education and discovery is a major part of the brand as a way to "demystify" and simplify cannabis consumption. For example, all products will include easy-to-understand instructions for use, and an online platform will go into more detail, such as how the effects of cannabis might be different if consumed using an oral spray.

Beyond the technical aspects of consumption, focusing on moods not only makes Solei more accessible to those who might not know the difference between THC, CBD, indica or sativa, but informs them about the opportunities cannabis can present in a range of different occasions.

"We were keen to create a brand that really allowed users to open up and discover the new opportunities cannabis can bring to the table," McCrae says. "We're letting consumers focus on how they want to feel, which presents the opportunity to say, 'I want to feel this way' and find out how cannabis can be a compliment to that. We're not looking to create one occasion or mood; it's really about offering experiences across the various moods or occasions cannabis can be a complement to."

Solei will be supported with a full go-to-market plan to ensure consumers are familiar with the Solei brand once cannabis is legalized in Canada this summer, focusing on digital platforms and events across the country.

Aphria selected Giants & Gentlemen as its agency of record last summer, but McCrae says the company and agency are no longer working together. Aphria is working with Jacknife, Diamond Integrated Marketing and Edelman on the Solei brand.