Natrel aims to offer a 'touch more'
The Agropur brand has unveiled a new creative platform, positioning itself as a "culinary partner."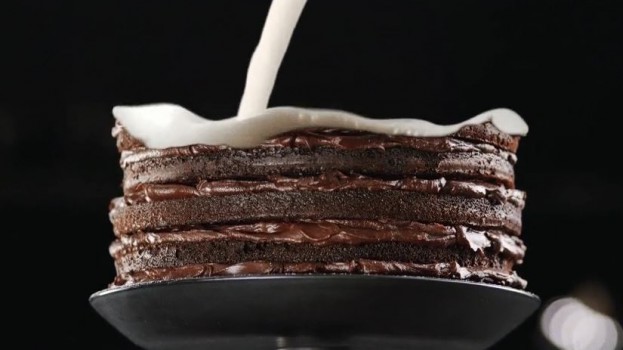 Natrel has unveiled a new brand platform with the launch of a national campaign, updated packaging and a redesigned website.
The "Taste the Possibilities" platform is intended to showcase the Agropur brand's range of dairy products, according to Mylène Couture, marketing director at Agropur.
Couture says Natrel is primarily known for its milk products, but in the last few years it has expanded into other dairy categories, such as butter, ice cream, cottage cheese and cream. The new creative is meant to familiarize consumers with the brand's entire dairy product line, while positioning the brand as a "culinary partner."
The eight-week campaign, led by Lg2, includes a series of 30-second TV commercials that aim to show how Natrel products offer a "touch more" than a typical dairy product, making them perfect for use in range of recipes and dishes, from kale smoothies to six-tier chocolate cakes. Each of the spots is dedicated to a different part of the brand portfolio, such as Natrel milk and lactose free dairy products.
"Taste the Possibilities" is also appearing as online display banners and print ads in Ricardo magazine, with Touché on media.
"This new platform positions Natrel as the catalyst for inspiration, encouraging people to explore new ideas, new dishes, new tastes and new flavors, adding a touch more taste and creativity to their everyday," says Couture. "The platform allows Natrel to be an aspirational brand, yet always within reach and never elitist."
In addition to the spots, Natrel has updated its packaging and redesigned its website to highlight its expanded product line. Couture says the brand wasn't looking to completely overhaul the packaging, as research showed it was still performing well with consumers. Instead, the idea was to modernize it a bit in order to better emphasize its black wave, a distinctive Natrel brand identity element, and deliver more consistency across its product lines.
Finally, Natrel will be running a mobile sampling kiosk at various events, including Toronto's Harbourfront Centre and the opening of the Natrel Basin (a body of water surrounding the Montreal Observation Wheel) in the Old Port of Montreal on May 19, to showcase a range of food items that can be made with Natrel products. Last winter, it executed a similar sampling program featuring hot chocolate and soup.
Lg2 worked with Natrel on a cheeky mockumentary last year to promote its lactose-free offering and maintain its position as the leading brand in the category.