Coca-Cola strengthens its sports drink portfolio
Vitaminwater Active and Powerade Zero are added to the product mix, with the company rolling out integrated campaigns for each.
Coca-Cola Canada is introducing Vitaminwater Active and Powerade Zero to the hydration category targeted at sports drink consumers.
Nielsen MarketTrack L52W states that the sports drink category had grown 3% in 2017 and Coca-Cola was seeing more consumers looking for drinks to support their active lifestyle. "We know the way consumers choose to be active is evolving and moving away from traditional sports," says Carolyn Harty, group marketing director for Coca-Cola. "We discovered that consumers were seeking more natural options within this space."
Powerade Zero comes in three new flavours (mixed berry, fruit punch and strawberry) and in 710 mL sports cap bottles and multipacks of six 591 mL bottles. All beverages are sweetened with stevia instead of sugar, giving it zero calories, and are targeted at teen athletes who watch and play traditional sports and are aware of what they consume. The formula Coca-Cola launched in Canada is unique to the country.
The launch will be supported through an integrated marketing campaign, including digital, out of home, creative, social and PR. The brand worked with Carat on media buy, with Mosaic for digital and out of home, Hill + Knowlton on PR and LPI on shopper tools.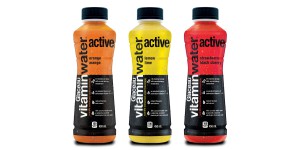 For millennials who value health and wellness, Vitaminwater Active, from Glaceau, is a workout drink for those who participate in non-traditional and emerging group activities.

The Vitaminwater Active launch will also be supported with an integrated marketing campaign, including television, digital, outdoor, social, influencer marketing, sampling and retail. The campaign's creative will focus on the fun side of being physically active using a cheeky tone of voice, with the product featured as a workout partner.

The brand worked with Hill + Knowlton on PR, Carat for media buy, Mosaic on out-of-home and experiential, Gravity on digital and Craft on shopper tools.

Both campaigns will start rolling out in June and continue through the summer. The products were available on shelf in early April, and the PR campaign began April 10.

Correction: The original post showed incorrect agencies working on campaigns for Powerade Zero and Vitaminwater Active. Strategy has updated this article to include the correct agency partners for each brand. We regret the error.